News
Published 1 December 2012
2012 Dame Joan Metge Medal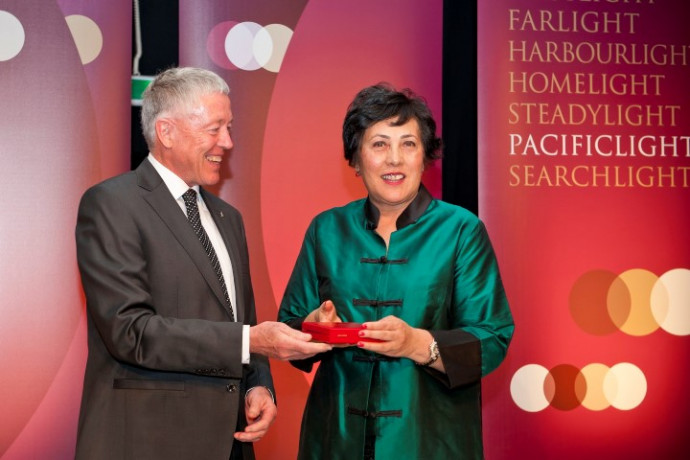 Professor Linda Tuhawai Smith and Professor Richard Bedford
Dame Joan Metge Medal – for excellence in research and capacity building in social science: awarded by the Royal Society of New Zealand to Professor Linda Tuhiwai Smith of the University of Waikato & to Professor Janet Holmes of Victoria University of Wellington.
To Linda Tuhiwai Smith for her outstanding contribution in inspiring, mentoring and developing the capacity of Maori researchers through teaching and research. Professor Linda Tuhiwai Smith is nationally and internationally recognized as a scholar and trailblazer who has inspired and mentored many Maori and non Maori social scientists. She has worked across disciplines and been responsible for redefining areas of study. She led the development of three Maori research institutes including Nga Pae O Te Maramatanga Centre for Research Excellence at the University of Auckland and now is the Director of Te Kotahi Research Institute at the University of Waikato where she holds the position Pro Vice Chancellor and Dean of the School of Maori and Pacific development. Her research has been described as paradigm-shifting with her book Decolonising Methodologies having a profound influence across the social sciences and also influence the humanities and sciences.
The Dame Joan Metge Medal was also awarded to Professor Janet Holmes For her outstanding unique contribution to linguistics. She holds a personal chair in linguistics at Victoria University of Wellington and is an outstanding scholar who has made a unique contribution to linguistics with a particular focus on discourse analysis, including gendered discourse, the use of language in workplaces and in professions, leadership communication and sociolinguistics. She has played a major role in establishing the skilled migrants programme at Victoria University, which has assisted migrants to become familiar with the distinctive requirements of the New Zealand work environment so aiding in their settlement and success in their new environment.
Source: Royal Society Te Apārangi