News
Published 26 November 2013
2013 Rutherford Medal: A Lifetime of Voyaging and Exploration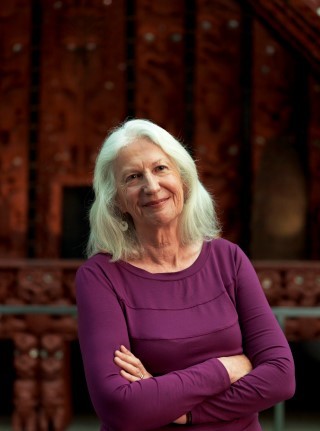 Distinguished Professor Dame Anne Salmond FRSNZ is the first social scientist to be awarded the Rutherford medal, New Zealand's highest science honour, presented by the Royal Society of New Zealand
An anthropologist at the University of Auckland, Dame Anne Salmond is being recognised for her eminent work on Māori social structures and interactions with the European world, and on European exploration and engagement in the Pacific.
Her work has made a huge impact in New Zealand, where it is seen as providing an understanding of cultural engagement that respects the contribution of all participants and explains complex interactions in a way that is persuasive and compelling. Internationally, Dame Anne Salmond is New Zealand's our best known social scientist, with a reputation for scholarly, original and imaginative anthropological re-creations that have earned her rare accolades of membership of scientific associations in the United Kingdom and the United States.
Dame Anne Salmond says she is deeply honoured to be announced as a Rutherford medallist. "It is a privilege to be the first social scientist to be receiving the Rutherford Medal.  My discipline of anthropology has been part of the Royal Society of New Zealand since it was founded, along with inquiry into Maori and Pacific philosophies and ways of living.
"I thank my colleagues so much for recognising the rich contributions made by these intellectual traditions for life in New Zealand and the Pacific.
"As the Māori proverb states: 'Mehemea ka tuohu ahau me maunga teitei –if you should bow your head, let it be to a high mountain'. I would like to pay homage to my teachers, my mentors and colleagues at the University of Auckland, the University of Pennsylvania and around the world, and Māori and Pacific communities for sharing their insights and knowledge with me. They have opened up pathways into worlds that would have remained inaccessible to me and sent me off on a lifelong journey of voyaging and exploration."
Dame Anne Salmond's books include:
Hui: A Study of Maori Ceremonial Gatherings
Amiria: The Life of a Maori Woman
Eruera: Teachings of a Maori Elder
Two Worlds: First Meetings Between Maori and Europeans 1642-1772
Between Worlds: Early Exchanges Between Maori and Europeans 1773-1815
The Trial of the Cannibal Dog: Captain Cook in the South Seas
Aphrodite's Island: The European Discovery of Tahiti
Bligh: William Bligh in the South Seas
Among numerous prizes and achievements, Dame Anne Salmond was made a Fellow of the Royal Society of New Zealand in 1990, she was awarded a damehood in 1995 and was named 2013 Kiwibank New Zealander for her work on cultural history
Citation:
2013 Rutherford Medal
To Mary Anne Salmond
For her eminent work on Māori social structures and interactions with the European world, and on European exploration and engagement in the Pacific
Source: Royal Society Te Apārangi