News
Published 26 November 2013
2013 Callaghan Medal: A hat trick for science communication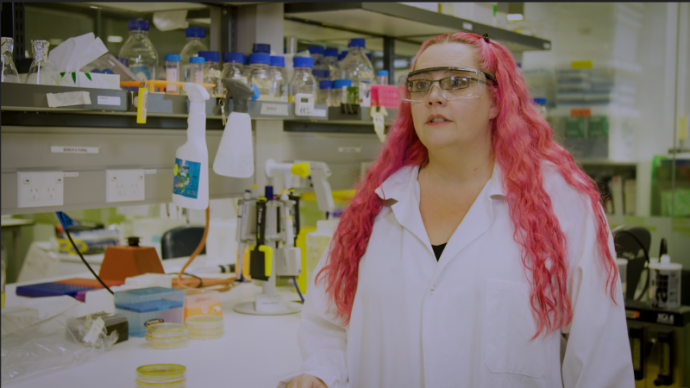 Dr Siouxsie Wiles, who recently won the Prime Minister's Science Prize for Science Communication and the New Zealand Association of Scientists Science Communicators Award last year, has been awarded the Royal Society of New Zealand Callaghan Medal for science communication, named in honour of the late Sir Paul Callaghan.


Dr Wiles is a microbiologist at the University of Auckland who studies bioluminescence and infectious diseases.  She heads up the Bioluminescence Superbugs Group, focusing on how glowing bacteria can help scientists better prevent and fight microbial infections such as food poisoning, tuberculosis and hospital superbugs.
She has been awarded the Callaghan Medal for raising public awareness of the value of medical science to human health and wellbeing.
Dr Wiles recognises that New Zealand cannot have a strong and effective public health system unless the risks of disease, and the costs and benefits of lifestyle choices, public health policies and medicines are well understood by the general public. As many public health measures are voluntary, she believes that it is vital for scientists to stand up and confront public health issues in the media. This belief drives her to commit a substantial portion of her time and talent to science communication and makes her arguably the most effective science communicator in New Zealand today.
An active science blogger and new media enthusiast, she appears regularly as a media commentator, discussing health and issues of wider scientific interest, such as open access to scientific results and peer review.
Her passion for science is always evident, whether via a rapid-fire stream of tweets on breaking science delivered from a conference session, or through an energetic explanation of the scientific method during a radio interview
She was one of the faces of last year's public engagement campaign for the National Science Challenges.
She has made a number of popular animations that introduce the public to glowing creatures such as fireflies and the Hawaiian Bobtail squid and she recently collaborated with artist Rebecca Klee to produce a 'glowing' science-art installation for Auckland's Art in the Dark Festival, with bioluminescent bacteria usually found in the sea.
Citation: 
2013 Callaghan Medal
To Siouxsie Wiles
For her significant contribution to raising public awareness of the value of medical science to human health and well-being.
Source: Royal Society Te Apārangi