News
Published 26 November 2013
2013 Hutton Medal:Plants eye view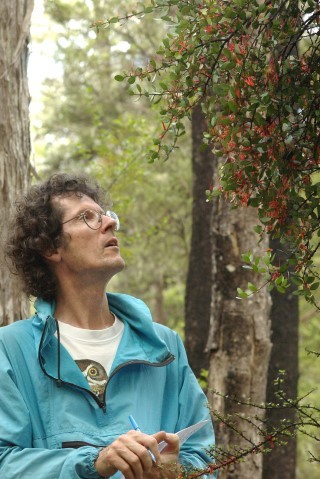 Professor Dave Kelly FRSNZ has been awarded the prestigious Hutton medal from the Royal Society of New Zealand for his work on plant ecology, exploring how New Zealand's plants are affected by birds, insects and animals and vice versa.
In his 28 years at the University of Canterbury, Professor Kelly has made major contributions to New Zealand plant ecology across a range of areas, looking at the many interdependent relationships between plants and animals.
His hallmark is using long-term studies of South Island ecosystems to reveal the answers to fundamental questions of national and international interest. He has used decades-long studies of variable seed crops ("mast seeding") in native plants, where plants produce unusually large amounts of seed in some years. He has studied the evolutionary causes, the proximate climate triggers, and the ecosystem consequences of this striking natural phenomenon, which is unusually common in New Zealand but is of interest worldwide.
Mast seeding is important this spring because the country is currently in the middle of a mass synchronized flowering event across most of New Zealand, involving all the southern beech species (Nothofagus), cabbage trees, New Zealand flax, and a range of other plants.
This looks likely to be the heaviest mass flowering year since at least 1999, and is triggered by warm temperatures last summer under mechanisms Professor Kelly has described. The seeding event is expected to produce rat and stoat outbreaks in 2015, with consequences which Professor Kelly has helped understand.
Professor Kelly has documented impacts of bird declines on plant pollination, and developed new techniques for estimating how well bird dispersal of seeds is working with depleted bird populations
His other work has documented herbivore impacts on native plants, including possum impacts on declining native mistletoes, effects of endemic scale insects on southern beech forests, and impact of endemic moths on mistletoe flowers.
His research has improved our understanding of New Zealand ecosystems and provided tools for better conservation of the native flora and fauna.
Professor Kelly grew up in Wellington and was educated at Massey University and Cambridge University (UK). He was made a Fellow of the Royal Society of New Zealand in 2002. He has been at the University of Canterbury since 1985.  
Citation:
2013 Hutton Medal
To Dave Kelly
For his outstanding contribution to developing knowledge of the native flora of New Zealand and in quantifying the ecological phenomena that define the key interactions between the plants and animals.
Source: Royal Society Te Apārangi