News
Published 26 November 2014
2014 Callaghan Medal:A buzz about genetics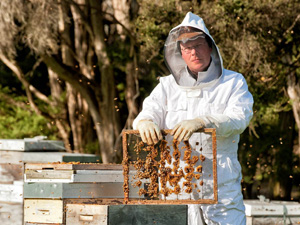 Geneticist Associate Professor Peter Dearden has been awarded the Callaghan Medal by the Royal Society for New Zealand for achievement in science communication.

The Callaghan Medal selection panel noted that Associate Professor Dearden is passionate about communicating the value of science and is a strong advocate for science outreach.
Associate Professor Dearden is best known for his research on honeybees and as the founding Director of Genetics Otago, a collaborative multidisciplinary research group of genetics researchers at the University of Otago that seeks to increase public awareness of genetics.
In 2013, Genetics Otago held its first Genetics Week which included international speakers and Genetics Otago researchers giving free public talks around the country, teacher and student workshop sessions, an exhibition at the Otago Museum and national media coverage.
To date, Genetics Otago has provided 36 free lectures and visits to schools in cities and smaller communities across New Zealand.
Professor Dearden said: "I am thrilled to have been selected for this award, which I regard as being not only for me, but also for the brilliant colleagues I work with at Genetics Otago."
Associate Professor Dearden's personal science communication activities often focus on his research, where he aims to show how fundamental research channels into tangible outcomes for industry, innovation and ultimately human health.
He works very closely with the beekeeping industry in New Zealand. Earlier this year his lab completed a study into whether there was enough genetic variation in New Zealand's commercial hives to maintain healthy populations, in light of the Varroa mite decimating feral hives. Happily, his lab found that there was and Associate Professor Dearden has reported this back to the beekeeping industry.
Associate Professor Dearden actively engages with schools, supporting the Royal Society of New Zealand Teacher Fellows, participating in the LENScience programme, the Science Learning Hub, the Otago University Advanced School Sciences Academy, and editing a Year 13 textbook.
He is frequently asked for media comment on genetics, writes a science blog Southern Genes for Sciblogs, and is on the New Zealand Science Media Centre's advisory board.
Source: Royal Society Te Apārangi