News
Published 26 November 2014
2014 Humanities Aronui Medal: From Lolita to the origins of storytelling; Shakespeare to the philosophy of science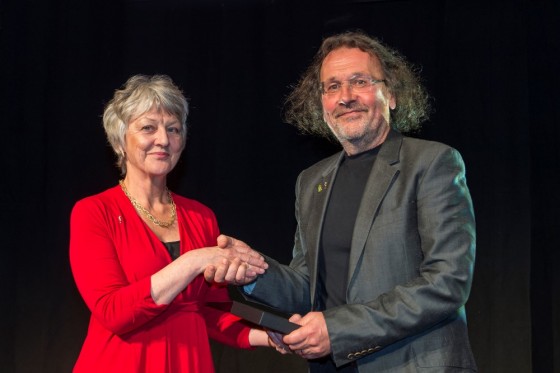 Brian Boyd being presented with Humanities Aronui Medal by Margaret Tennant
Distinguished Professor Brian Boyd FRSNZ from the University of Auckland has been awarded the Humanities Aronui Medal from the Royal Society of New Zealand for his wide‐ranging contribution to the humanities.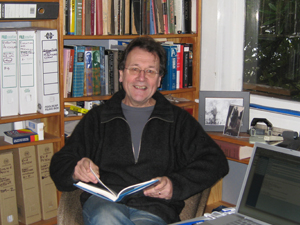 Distinguished Professor Boyd is well known for his work on Russian‐American novelist Vladimir Nabokov. He has written and edited nineteen books and over 250 articles and an extensive website on Nabokov and his work has been translated into fifteen languages and received many awards.
He has written on literature from Homer to the present, from epics to comics, on American, Brazilian, English, Greek, Irish, New Zealand and Russian writers, including Shakespeare.
In recent years he has become interested in new evolutionary and cognitive approaches to literature and the arts, exploring why we engage in art and storytelling and whether our minds and behaviour can be reshaped by art and literature.
He was awarded a Marsden Fund grant in 2012 to write a biography of philosopher of science Karl Popper.
The medal selection panel noted his outstanding and wide-ranging contribution to the humanities, both as the leading scholar of Vladimir Nabokov and his more recent work unifying the study of literature with the sciences.
When asked to reflect on what has drawn him to study such a wide range of topics in the humanities, he said:
"The two people I have invested most intellectual energy in, Nabokov and Popper, could hardly be more different; but what connects them for me, what makes me want to make their work better known, is that they both see the world as a space of endless, inexhaustible discovery.
"I'm passionate about how we extend the boundaries of what's possible: imaginatively and creatively, and in terms of intellectual discovery of all kinds."
"But I also focus not just on the high achievers but also on ordinary humans: on what connects us with each other across time, place, culture and individual difference; on how anyone understands or learns or creates and discovers; and on how everybody extends their boundaries."
Distinguished Professor Boyd is a Fellow of the Royal Society of New Zealand and has been awarded a James Cook Fellowship (1997‐1999) and a Claude McCarthy Fellowship (1981‐82).
Humanities Aronui Medal
For innovative work of outstanding merit in the humanities.
Citation
To Brian Boyd for his outstanding and wide‐ranging contribution to the humanities in general.
Source: Royal Society Te Apārangi