News
Published 26 November 2014
2014 MacDiarmid Medal: Keep a cool head, baby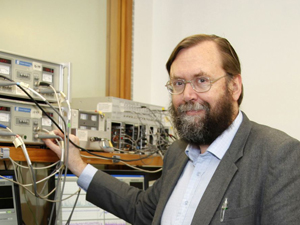 Clinician‐scientist Professor Alistair Jan Gunn has been awarded the MacDiarmid Medal for his research into using brain cooling to prevent brain injury in babies who experience low oxygen at birth.
His experimental studies have provided the foundation for understanding how, when and for which babies cooling can successfully reduce brain damage.
"Professor Gunn has made a major contribution to perinatal physiology and neuroscience," the MacDiarmid Medal selection panel said.
Professor of Paediatrics and Physiology at the University of Auckland, Professor Gunn, with his mother, the late Professor Tania Gunn, carried out a pioneering randomised, safety study of head cooling in New Zealand in the late nineties. This study established that therapeutic cooling was feasible and safe even in very sick newborn babies, and that simple bedside tests could quickly identify babies who might benefit from treatment.
Professor Gunn then developed and led a major international multicentre trial involving 25 perinatal centres and 234 babies in New Zealand, United States, Canada and the United Kingdom. This trial demonstrated that cooling could improve survival without disability in all but the most severely affected babies. Follow ups when the children were 7‐8 years of age confirmed the results, as have subsequent trials carried out by others around the world. Mild cooling (therapeutic hypothermia) is now the standard of care for treating babies with brain injury due to low oxygen levels worldwide.
In partnership with international company Olympic Medical (USA), Professor Gunn developed a device for cooling a baby's head, which is sold internationally.
"The development of therapeutic hypothermia is a classic New Zealand accomplishment, simple and practical but revolutionary," Professor Gunn said.
"I believe that it will provide a strong platform to develop even better treatments for the brain in the future.
"Naturally, the translation to being a clinical treatment required the work of many scientists and clinicians here and overseas.
"Looking back, I am especially humbled and grateful that so many mothers and fathers of affected babies took the leap of faith to allow us to cool their babies for the first time."
Professor Gunn was made a Fellow of the Royal Society of New Zealand in 2009. He is regarded as an expert in perinatal physiology and neuroscience. His research has targeted major causes of death and disability in early childhood, including the mechanisms and treatment of asphyxial brain injury, prevention of cerebral palsy, the identification of compromised fetuses in labour and prevention of life threatening events in infancy.
MacDiarmid Medal
For outstanding scientific research which demonstrates potential for human benefit.
Citation
To Alistair Gunn for his major contribution to perinatal physiology and neuroscience.
Source: Royal Society Te Apārangi