News
Published 26 November 2014
2014 Mason Durie Medal: Uncovering the origins of the Angkor Civilisation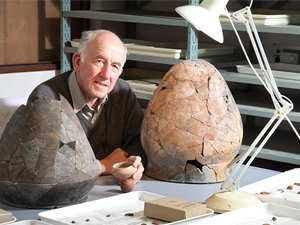 Archaeologist Professor Charles Higham has been awarded the Mason Durie Medal for his work to understand social change in Southeast Asia over three millennia.
By integrating a wide range of data from settlement patterns, materials, mortuary and biological remains, he has identified a series of social changes that led to the establishment of rice farming communities and ultimately the rise of the Angkor state.
His excavations of burial sites during the Bronze Age at Ban Non Wat in modern‐day Thailand challenged the idea of an egalitarian farming community and the length of this period. He uncovered what might be best described as a royal cemetery, and his excavations reveal how the advent of metallurgy stimulated the rapid rise of a social elite before a sharp decline. A total of 76 radiocarbon samples provide a chronology for this period.
His later research in the Iron Age from four large moated town sites in Northeast Thailand has shown the role of an agricultural revolution, the industrial production of salt, a burgeoning exchange in exotic goods, population growth and competitive warfare in the rise of leaders and social inequality that stimulated the rise of the state of Angkor (or Khmer Empire).
The medal selection panel said that when Professor Higham started his research, virtually nothing was known about the prehistoric sequence in southeast Asia. "No other archaeologist has done as much to aid current understanding of the prehistory of Thailand and adjacent regions."
Professor Higham accepted the Mason Durie Medal with "deep gratitude".
"Identifying the origins of a civilisation takes years of fieldwork, and the contributions of many colleagues. It also needs financial support. I thank my team for their dedication to our project, and the continued and vital backing of the Marsden Fund for enabling me to achieve my aims."
Professor Higham's research has been internationally recognised. He was the first New Zealand scholar to be elected a Corresponding Fellow of the British Academy in 2000. He is an Honorary Fellow of St Catharine's College, Cambridge and in 2012 was awarded the Grahame Clark medal for distinguished archaeological research by the British Academy. His fieldwork was voted in the top ten archaeological achievements in the world in 2013 by the Shanghai Archaeological Forum.
Mason Durie Medal
To recognise a pre‐eminent New Zealand social scientist whose research has made an international impact.
Citation
To Charles Higham, for his eminent research which has concentrated on social change in Southeast Asia that led to the foundation of the earliest states, with particular reference to Angkor.
Source: Royal Society Te Apārangi