News
Published 26 November 2014
2014 Pou Aronui award: An ambassador for New Zealand literature and the arts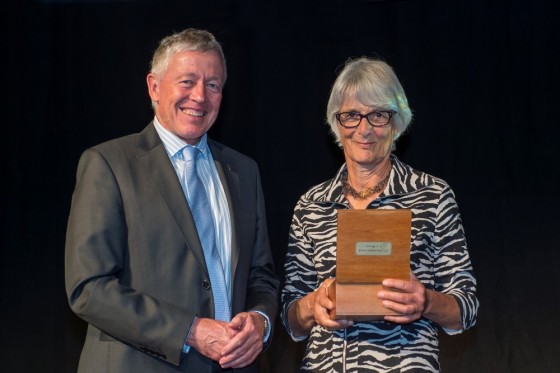 Lydia Wevers presented with Pou Aronui Award by Richard Bedford
Professor Lydia Wevers has been awarded the Pou Aronui Award by the Royal Society of New Zealand for dedication to promoting the study and enjoyment of New Zealand's literature, history, arts and culture.
"She has been a tireless and effective champion of New Zealand's literature, history, thought and culture," the award selection panel said.
Professor Wevers is a literary critic and historian, as well as an editor and reviewer. She has been Director of the Stout Research Centre at Victoria University of Wellington since 2001. The centre was set up to encourage scholarly inquiry into New Zealand society, history and culture.
Professor Wevers founded the Journal of New Zealand Studies in 2002, a multidisciplinary, peer‐reviewed journal for articles with a New Zealand focus or comparative with a strong New Zealand element.
Her academic research has focussed on New Zealand's writing and print culture. Two of her books are 'Reading on the Farm: Victorian Fiction and the Colonial World'(2010) and 'Country of Writing: Travel Writing and New Zealand, 1809‐1900 (2002). She is also the editor of a number of collections and anthologies, on subjects ranging from Australasian romance to contemporary work in cultural studies.
She has served as the chair of the Trustees of the National Library, chair of the Guardians/Kaitiaki of the Alexander Turnbull Library and has assisted in the development of Te Ara: The Encyclopedia of New Zealand since its inception. She is former Vice‐President of the New Zealand Book Council.
She has also played key roles in administering the academic humanities, serving on the Performance‐Based Research Fund (PBRF) Humanities and Law Panel and as a member and chair of the Humanities Panel of the Marsden Fund.
Professor Wevers has also served the wider arts community though her involvement with Creative New Zealand and Writers and Readers festivals.
Professor Wevers described working in the humanities as "always a joy".
"I am paid to read and think and argue, to dig in archives full of the scent of the past and think about what matters, right here and now.
"It is amazing and wonderful to receive an award for spending my time and energy on work, people and materials I love."
She is an Honorary Life Member of the Association for the Study of Australian Literature and a Fellow of the Stockholm Collegium of World Literary History. In 2006 she was made an Officer of the New Zealand Order of Merit for services to Literature.
Pou Aronui Award
To recognise distinguished service to humanities.
Citation
To Lydia Wevers, for her sustained distinguished service to humanities/aronui.
Source: Royal Society Te Apārangi