News
Published 26 November 2014
2014 Sir Charles Hercus Medal: Pinpointing the cause of hereditary stomach cancer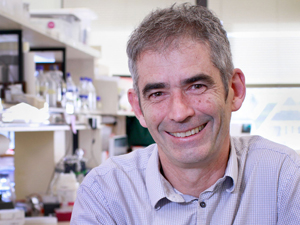 Professor Parry Guilford of the University of Otago has been awarded the Sir Charles Hercus Medal for his ground‐breaking work that established the gene mutation that can lead to stomach cancer in families with the mutation.
Professor Guilford led a collaboration with a large Māori family from the Bay of Plenty that identified the first known gene for inherited gastric cancer. This allowed family members to be tested for the gene and to decide whether to take preventative action. This research was originally published in Nature in 1998.
The ownership of the tissues and intellectual property for the project were legally documented in an agreement between Kimi Hauora (Tauranga) and the University of Otago in accordance with Treaty of Waitangi principles. The United Nations has cited this project as providing a model for the interaction between geneticists and indigenous families affected by inherited disorders.
Since the discovery of this gene, approximately 350 families have been diagnosed worldwide, leading to a dramatic improvement in clinical management and cancer prevention. This work was even featured in a plot of the hit US medical drama Grey's Anatomy and, closer to home, Shortland Street. 
Since 2001, Professor Guilford has been chief scientist at Pacific Edge Ltd, a cancer diagnostics company. Under his leadership, the company has developed a urine test for bladder cancer called CxBladder. Last year, PEL was awarded the 2013 Supreme Winner of the New Zealand Innovators Award for the development of CxBladder.
The medal selection panel said: "Professor Guilford is one of New Zealand's leading biomedical and health scientists committed to improving the health of people through the application of biomedical research."
On being awarded the medal, Professor Guilford said: "I am just one of a team – particular acknowledgement must go to the affected cancer families, especially the researchers at Kimi Hauora Health Clinic in Mt Maunganui."
Last year Professor Guilford was awarded the Sir Donald Beaven Medal by the Health Research Council of New Zealand for his contributions to translational health research.
He was awarded a James Cook Research Fellowship by the Royal Society of New Zealand in 2009.
Sir Charles Hercus Medal
For excellence in biomedical sciences and technology.
Citation
To Parry Guilford for his ground‐breaking work leading to the discovery of the role of E‐cadherin mutations in familial gastric cancer
Source: Royal Society Te Apārangi