News
Published 10 November 2015
2015 Callaghan Medal: Nanogirl recognised for exciting young people about science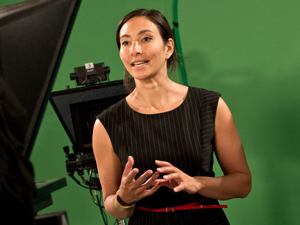 'Nanogirl' Dr Michelle Dickinson completes her sweep of New Zealand's science communication awards by being presented with the Callaghan Medal, named after Sir Paul Callaghan, by the Royal Society of New Zealand
Dr Dickinson has been awarded the medal for her passion and dedication to communicating the value of science, particularly to young people.
She was awarded both the Prime Minister's Prize for Science Communication and the New Zealand Association of Scientists Science Communicators Award last year.
The medal selection panel noted her tireless energy for promoting the value of science and technology to young people, particularly those for whom there are gender, ethnicity, or social equity barriers to them pursuing science, engineering, and technology as a career.
She created an alter ego, 'Nanogirl', who campaigns to break stereotypes about what a scientist or engineer looks like, encouraging the participation of underrepresented groups in science, technology and engineering.
As an ambassador for the national BrightSparks competition, this year she sponsored a new award category for girls which resulted in a 5 fold increase in the number of female applicants from last year.
As part of the 100 days project, she created "100 days of science" in which she carried out a different science experiment with someone from the public to showcase that science can be done by all.
Dr Dickinson is a co-founder of OMGTech, which teaches coding, robotics, 3D printing and science to children around New Zealand with a priority around low-decile schools and rural communities.
She is a regular guest and commentator in the media, appearing weekly on television, radio and in print. She is also a highly sought after public speaker and writer of columns and blogs. Her Twitter handle 'Nanogirl'@medickinson has over 9k followers.
On receiving the Callaghan Medal, Dr Dickinson said: "It's a true honour to receive this medal in Sir Paul's name, alongside the other incredible communicating scientists who have received this medal.
"One of Sir Paul Callaghan's visions was to make science more accessible for all. A vision which I passionately share and feel can only strengthen New Zealand's innovative and inventive future.
View video of Professor Margaret Hyland and Dr Michelle Dickinson discussing winning the Pickering Medal and Callaghan Medal respectively and about being women engineers.
(Source: University of Auckland)
I'm humbled to be part of the next generation of positive role models providing access to the fascinating world of scientific research."
Dr Dickinson obtained her PhD from Rutgers University (USA) and her MEng from Manchester University UK in biomedical materials engineering. She is a senior lecturer in Chemical & Materials engineering at the Faculty of Engineering, University of Auckland where she heads up New Zealand's only nanomechanical testing lab, focusing on world-class research into breaking extremely small things for the high-tech sector.
In addition to her previous awards for science communication, Dr Dickinson was made a Member of the New Zealand Order of Merit for her contribution to science communication and received a Sir Peter Blake Leadership Award in 2015.
Callaghan Medal:
For an outstanding contribution to science communication and raising public awareness of the value of science to human progress.
Citation:
To Michelle Emma Dickinson for her passion and dedication to raising public awareness of the value of science in New Zealand, particularly with young people.
Source: Royal Society Te Apārangi