News
Published 10 November 2015
2015 Humanities Aronui Medal: Charting migration and colonisation of Oceania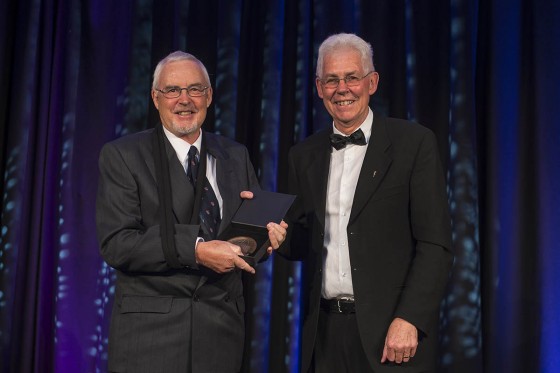 Atholl Anderson receives Humanities Aronui Medal from Richard Leheron
Emeritus Professor Atholl Anderson CNZM FRSNZ has been awarded the Humanities Aronui Medal for his research into human maritime migration and island colonisation history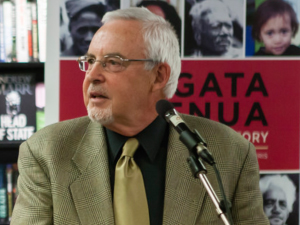 His main interest has been in pre-European island colonisation, encompassing themes of seafaring, migration chronology, colonisation behaviour and environmental change.
The medal selection panel said that Professor Anderson's contribution to archaeological and historical scholarship and to understanding New Zealand's past is truly exceptional.
"He is an outstanding researcher, writer and communicator of Māori history who has clarified the timing of human colonisation in Aotearoa, chronicled how Tangata Whenua occupied the largest landmass in Polynesia, and documented human interaction with New Zealand's unique floral and fauna, particularly the extinction of the moa."
With Aroha Harris and the late Judith Binney FRSNZ, Professor Anderson co-authored Tangata Whenua: An Illustrated History, which charts Māori history from ancient origins to the 21st century. This landmark publication won the 2015 Royal Society of New Zealand Book Prize.
Professor Anderson's research has not focused solely on Aotearoa, however, rather he has undertaken a lifetime of archaeological research spanning the entire Indo-Pacific from Madagascar, Seychelles and Diego Garcia, through the Batanes (Philippines), Yaeyama (Japan) and Palau islands, to New Caledonia, Fiji, Niue, Kiribati, French Polynesia, and the Juan Fernandez and Galapagos groups.
On receiving the medal, Professor Anderson said: "I am very pleased to receive this award, not just for myself, but as recognition that recent research on the colonisation history of oceanic islands, to which archaeologists, geneticists, linguists and ecologists have all contributed, has much to contribute to understanding the global story of human migration."
Professor Anderson, who is of Ngāi Tahu descent from Māori-Pakeha families on Rakiura, is Professor Emeritus at the Australian National University.
He has received numerous awards and fellowships, including Leverhulme Professor at the University of York, Slater Fellow and Distinguished Fellow at the University of Durham, Research Fellow at the University of Tokyo and a Visiting Fellow at Clare Hall and Corpus Christi College, Cambridge.
He was made a Fellow of the Royal Society of New Zealand in 1991 and made a Companion of the New Zealand Order of Merit in 2006. He is also a Fellow of the Australian Academy of the Humanities and the Society of Antiquaries (London).
Humanities Aronui Medal:
For innovative work of outstanding merit in the humanities.
Citation:
To Atholl John Anderson for his outstanding contribution to the humanities through research on pre-European migration and colonisation of oceanic islands.
Source: Royal Society Te Apārangi