News
Published 10 November 2015
2015 Pickering Medal:Reducing emissions from aluminum production
Professor Margaret Hyland has been awarded the Pickering Medal for her pioneering research to reduce fluoride emissions from the aluminium industry. Professor Hyland is the first female to win this medal.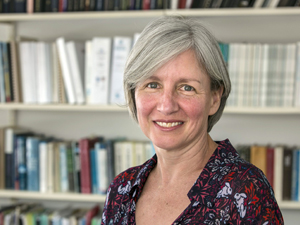 Aluminium is one of the most important and widely used metals in the transport, construction, packaging and electrical sectors, due to its abundance, low density and corrosion resistance. The smelting of aluminium from ore, however, can produce large quantities of fluoride emissions from the chemicals added to produce the pure metal, which damage the environment and are detrimental to human health.
Reducing fluoride emissions is a critical target for the aluminium industry worldwide for economic and environmental reasons and research in this area is a topic of huge importance on a global stage.
View video of Professor Margaret Hyland discussing her research on reducing fluoride emissions from aluminium smelting.
Professor Hyland, who is Professor in the Department of Chemical and Materials Engineering at University of Auckland, has made fundamental discoveries of the sources and mechanisms of gaseous and particulate emissions from aluminium smelters and has developed methods to cost-effectively reduce them and return fluorides into the process, providing an economic benefit.
In 2011, Professor Hyland and her team produced the first comprehensive and practical guide to fluoride emissions management, which has allowed smelters worldwide to reduce fluoride emissions without requiring large capital expenditure, the medal selection panel said.
"Her basic and applied research has had a profound impact on how environmental mitigation measures and emission control systems are developed and applied to the primary aluminium industry."
View video of Professor Margaret Hyland and Dr Michelle Dickinson discussing winning the Pickering Medal and Callaghan Medal respectively and about being women engineers. (Source: University of Auckland)
This guide was commissioned by the Australian Aluminium Council, as part of an international effort to manage and mitigate greenhouse gas emissions under the Asia-Pacific Partnership for Clean Development and Climate (APP).
Professor Hyland is founding member and Principal Investigator of the Light Metal Research Centre at the University of Auckland, which provides technical support, training and education for the light metals sector globally. The Centre currently has over 30 projects running with companies and research institutes from over 20 countries.
Professor Hyland said she was "absolutely thrilled" to receive the Pickering Medal.
"For me, it acknowledges two things –firstly, it's recognition of the world-class research that is carried out in the Light Metals Research Centre. And secondly, it highlights the importance of fundamental research in delivering mission-led research – in this case a mission to improve the environmental performance of the international aluminium industry."
Professor Hyland's work with environmental emissions has been recognised by a Metals and Materials Society (TMS)award five times: three TMS Awards for her work in the generation and capture of fluoride, and two TMS Carbon Awards for her research in materials development and cathode wear processes. She was elected a Fellow of the Institute of Chemical Engineers (UK) in 2008. In 2015, Professor Hyland became the first woman to chair the international Metals, Minerals and Materials Society's Aluminum Committee, and the first to edit the proceedings of the light metals conference.
Professor Hyland's other area of expertise is in thermal spray coatings.
Pickering Medal:
For excellence and innovation in the practical application of technology.
Citation:
To Margaret Mary Hyland for her pioneering work into the reduction of fluoride emissions produced by aluminium smelters worldwide.
Source: Royal Society Te Apārangi