News
Published 10 November 2015
2015 Thomson Medal:Science leadership for nanotechnology and research collaboration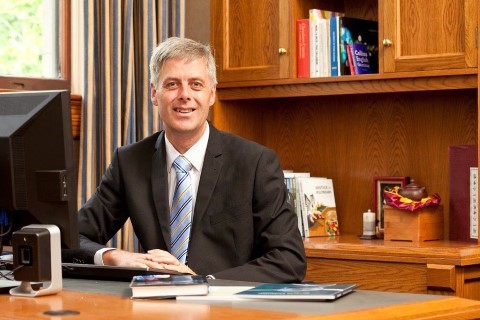 The Thomson Medal for science leadership has been awarded to Professor Richard Blaikie for his involvement in establishing and supporting nanotechnology as a strong sub-discipline in New Zealand and for his leadership of the MacDiarmid Institute, a Centre of Research Excellence.
Professor Blaikie FRSNZ, now Deputy Vice-Chancellor (Research and Enterprise) at the University of Otago, was Deputy Director of the MacDiarmid Institute under Sir Paul Callaghan from 2001 to 2008 and Director from 2008 to 2011.The MacDiarmid Institute develops cutting-edge techniques in physics, chemistry and engineering to build materials and devices from atoms and molecules and explore other phenomena at 'the nanoscale'.
The medal selection panel commended Professor Blaikie for his "inclusive and open leadership style that allows researcher-led collaborations to flourish". It noted that the MacDiarmid Institute experienced high numbers of academic publications and strong attendance at the Institute's annual symposium during Professor Blaikie's directorship.
Prior to his involvement with the MacDiarmid Institute, Professor Blaikie established and led a nanofabrication laboratory as part of the University of Canterbury's Nanostructure Engineering, Science and Technology (NEST) research group, following his return to New Zealand in 1995.
Achievements by Professor Blaikie include:
Initiation of PhD internships with IBM's Almaden Research Centre
Leadership of the MacDiarmid Institute's annual student and postdoctoral symposia series, setting these up as an avenue for emerging scientist to discuss the commercial, social, environmental and public-engagement elements of the Institute's research
Programme Chair for the second 'AMN' conference (Queenstown, February 2005)
Direct engagement with industry through leading the Institute's first industry forum (2003) and undertaking direct industry consultancy work and engaging directly or indirectly with Institute start-up companies.
His other national leadership roles including serving on the Marsden Fund Council (2005-2007) and inaugural membership of the Science Board (2011). In his leadership role at the University of Otago, he seeks opportunities for putting further focus on the practical application of science and technology, while maintaining the strength of discipline-focused research to underpin this.
Professor Blaikie says: "I am delighted and honoured to receive this award and am grateful to my nominators and referees for their support. I have been very fortunate to have always had colleagues and collaborators with shared vision and passion for developing nanoscience as an area of strength in New Zealand; without them any initiatives I have led or contributed to would not have been possible. The opportunity to work alongside Paul Callaghan, one of New Zealand's most visionary and generous leaders, is also something that I will be ever grateful for."
Professor Blaikie was made a Fellow of the Royal Society of New Zealand in 2011 and was awarded the 2013 Hector Medal from the Royal Society of New Zealand for his fundamental and wide-ranging contributions to the field of nano-optics.
Thomson Medal:
For an outstanding contribution to the organisation, support, and application of science and/or technology.
Citation:
To Richard John Blaikie for his significant contributions to science leadership in Centres of Research excellence and other national collaborative activities devoted to investigator-led research.
Source: Royal Society Te Apārangi