News
Published 23 November 2016
2016 Dame Joan Metge Medal: Evidence-based Education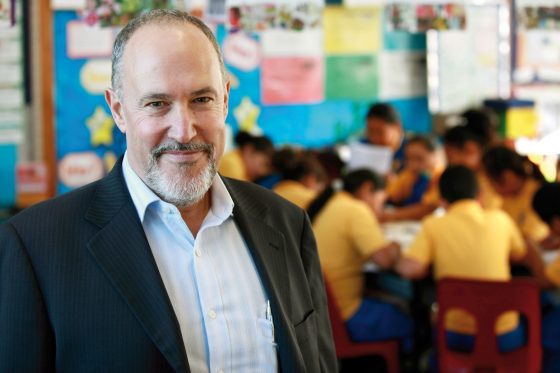 Professor Stuart McNaughton ONZM, University of Auckland, has been awarded the Dame Joan Metge Medal by the Royal Society of New Zealand for his contributions to improving education using evidence.


Professor McNaughton has pioneered techniques that allow schools to improve teaching outcomes by monitoring their own results, and adjusting teaching approaches accordingly, particularly in literacy and language development.
The medal selection committee also noted his achievement in building research capacity in educational science and for his impact on educational policy both nationally and internationally.
Professor McNaughton's research has led to successful intervention programmes and new assessment tools in both English language and Māori language instruction in New Zealand, as well as in English language instruction in other countries.
His current work focuses on digitally-based teaching across low decile school clusters, and investigating how to improve the teaching of early literacy in the Cook Islands, Tonga and the Solomon Islands.
Professor McNaughton is the Director of the Woolf Fisher Research Centre at the University of Auckland, which he co-founded with Professor Graham Hingangaroa Smith in 1998.
Working with both practicing teachers and educational scientists, the centre has pioneered school change interventions in New Zealand, and new scientific approaches to redesigning schools to be more effective for students from diverse communities.
His work into the testing of a lead teacher model for evidence-based problem solving in schools was a forerunner to the Government's model in its 'Investing in Educational Success' policy.
In addition to his research, he has mentored many early-career academics and developed national resources for teaching literacy.
In 2014 he was appointed as New Zealand's inaugural Chief Education Scientific Advisor to the Ministry of Education.
On receiving this medal, Professor McNaughton said: "I am humbled, but also delighted to receive this award. Delighted because it is a recognition of how educational science can help solve complex problems of designing education to be equitable and excellent for all our children. Research like this is fundamentally collaborative. The success of our team at the Woolf Fisher Research Centre at the University of Auckland demonstrates how the science of educational change requires ongoing partnerships with schools and their communities, policy makers and public and private agencies."
Professor McNaughton was made an Officer of the New Zealand Order of Merit in 2011 for services to education. He is a Distinguished Visiting Professor at East China Normal University (Shanghai), and has also been inducted into the Reading Hall of Fame in the United States.
Dame Joan Metge Medal:
For excellence in research and capacity building in social sciences.
Citation:
To Stuart McNaughton for his contributions to the building of research capacity in educational sciences, advancing literacy and language development, and for his evidence-based impact on educational policy both nationally and internationally.
Source: Royal Society Te Apārangi