News
Published 23 November 2016
2016 Humanities Aronui Medal:Reinterpreting the history of the British Empire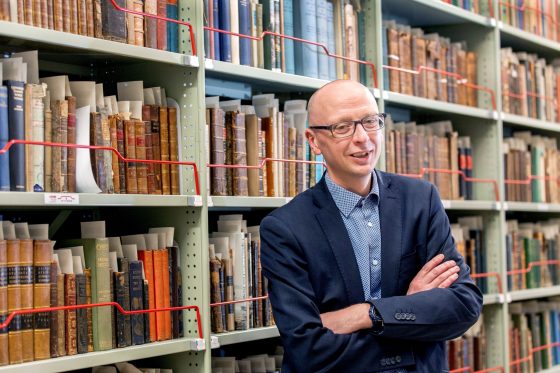 Professor Tony Ballantyne FRSNZ, University of Otago, has been awarded the Humanities Aronui Medal by the Royal Society of New Zealand for reshaping scholarly thought on British imperial history.


His research on the history of the British empire during the nineteenth century has shown how ideas about cultural difference (race, religion, language and gender) structured colonial power, and how these ideas influenced and continue to influence both colonised and colonising people.
His idea of the 'webs of empire' draws attention to the web-like structure of the British empire and the importance of both direct 'horizontal' connections between colonies as well as 'vertical' linkages back to Britain.
Professor Ballantyne has used this 'web of empire' concept to reveal just how central the imperial connections were to the new communities being developed in New Zealand in the nineteenth-century, by highlighting links between New Zealand and a range of institutions, religious and social movements, markets and cultural currents in India, China, Britain and the Australian colonies.
The medal selection committee said this model had been highly influential in shaping the 'new imperial history', a cultural approach to the histories of British empire-building and colonialism and had challenged many of the conventional interpretations that have shaped New Zealand historical writing since the 1960s.
His most recent work, Entanglements of Empire (2014), was the winner of the New Zealand Historical Association's W.H. Oliver prize for the best journal book on New Zealand history published 2013 – 2015. It was also a finalist for Ernest Scott prize for the best book relating to Australian or New Zealand history.
Professor Ballantyne says he is delighted to receive the Humanities Aronui Medal. "I have been exceptionally lucky to have been taught and mentored by some outstanding historians, to have been able to develop my thought in dialogue with generous colleagues here in New Zealand and internationally, and to be able to research in the incredibly rich holdings of our libraries and archives, especially Hocken Collections here at the University of Otago."
Professor Ballantyne is Pro-Vice Chancellor, Humanities at the University of Otago and Director for Centre for Research on Colonial Culture. Professor Ballantyne was awarded a Marsden Fund grant in 2005 for his research into the development of colonial knowledge in southern New Zealand, and made a Fellow of the Royal Society of New Zealand in 2012.
Humanities Aronui Medal:
For innovative work of outstanding merit in the humanities.
Citation:
To Anthony John Ballantyne for reshaping the scholarly interpretation of British imperial history by demonstrating the importance of networks, cultural difference and mobility, and reconstructing the centrality of colonialism and empires in the making of the modern world.
Source: Royal Society Te Apārangi