News
Published 23 November 2016
2016 Sir Charles Hercus Medal:Advancing respiratory medicine and health science research in New Zealand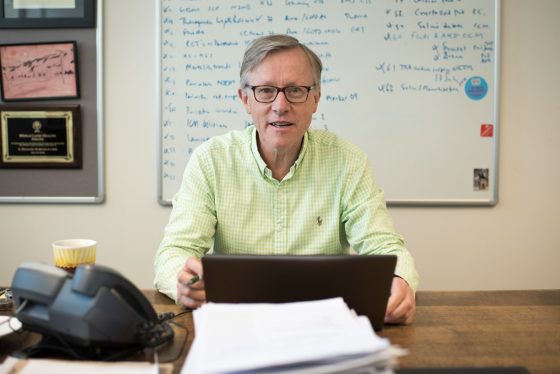 Professor Richard Beasley CNZM FRSNZ has been awarded the Sir Charles Hercus Medal by the Royal Society of New Zealand for his wide ranging contributions to advancing respiratory medicine and health science research in New Zealand.


The medal selection panel said his research has had a major impact on clinical practice and public health.
His contributions to respiratory medicine include:
reducing mortality from asthma by identifying the drug fenoterol as the cause of a mortality epidemic
developing a novel 'credit card' asthma self-management plan
determining the correct dose and best treatment regime for inhaled corticosteroids, the cornerstone medication for asthma prevention
advancing knowledge of the oxygen-haemoglobin dissociation curve for understanding how blood carries and releases oxygen, thereby overcoming its limitations for use in clinical practice
demonstrating that cannabis use is a risk for developing lung cancer
determining risk factors for developing asthma, including diet and lifestyle factors, through his key role in the largest asthma epidemiology project undertaken.
Professor Beasley established and is Director of the Medical Research Institute of New Zealand (MRINZ). An independent medical research organisation, it has research programmes in a wide range of areas including, asthma, chronic obstructive pulmonary disease (COPD), stroke, fever, oxygen therapy and intensive care medicine, with a high output of publications.
The medal selection committee noted Professor Beasley leadership and success in developing MRINZ and in mentoring the careers of several emerging and established health researchers. They also noted his commitment to improving clinical management by reassessing what is held as dogma for best-practice treatment.
Professor Beasley said he was delighted to receive the Sir Charles Hercus Medal. "Although the award is in my name, it also recognises the work and commitment of so many of my colleagues, both in New Zealand and internationally, who have made such a huge contribution to our research effort, and in particular to the Medical Research Institute of New Zealand."
Professor Beasley is also Consultant Physician to Capital and Coast District Health Board, Honorary Visiting Professor of University of Southampton in the UK and Adjunct Professor of University of Otago and Victoria University of Wellington. He is a Fellow or Member of prestigious clinical science based organisations including the Royal College of Physicians, (London), American Academy of Allergy, Asthma and Immunology, and the European Respiratory Society. In 2008 his contributions to medical science were recognised by becoming a Companion to the New Zealand Order of Merit and he was elected as a Fellow of the Royal Society of New Zealand in 2015.
Sir Charles Hercus Medal:
For excellence in health sciences.
Citation:
To Charles Richard William Beasley for his significant contribution to the advancement of respiratory medicine and health science research in New Zealand.
Source: Royal Society Te Apārangi