News
Published 10 October 2017
2017 Humanities Medal: A career based on the building blocks of words: a cave weta is not a weta cave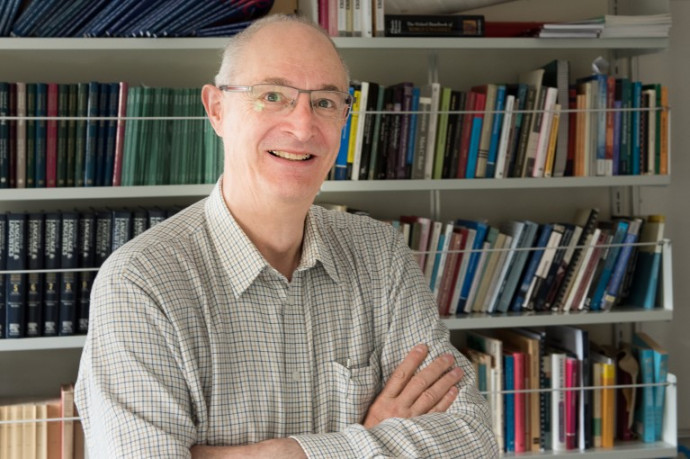 Emeritus Professor Laurie Bauer FRSNZ has been awarded the Humanities Medal by Royal Society Te Apārangi for his influential research in descriptive linguistics.
Professor Bauer's research has focussed on three main areas:
word-formation (how words are created from smaller meaningful elements and their derivation)
the description of international varieties of English, or 'Englishes'
the study of the sound structure of language.
Professor Bauer is the author of twenty books and over 150 articles in learned journals. His most influential work has been on the way words are constructed, not only in English, but in languages in general. He is one of the world's leading authorities on compound words like 'vitamin pill' (which gives you vitamins), and 'sea-sickness pill' (which you expect to stop, rather than to give you, sea-sickness!).
He says, "I'm fascinated by the way English speakers create fresh compounds from a very early age with great freedom, and other people understand them readily, although it's not obvious how they work out the appropriate sense". One of his many papers in this field, 'Dvandva' in the first edition of the journal Word Structure was one of the most downloaded papers from that journal. His paper 'When is a sequence of two nouns a compound in English?' published in the journal English Language and Linguistics in 1998 was selected for a special 20th anniversary collection and is one of the ten most cited articles published in this leading journal.
His book English Word-formation, first published in 1983 and regularly reprinted since, has become one of the best-selling titles in its series. Language Myths (Penguin 1998) continues to sell well nearly twenty years after its first publication, and has been translated into Japanese. Morphological Productivity (2000) was reprinted in paperback in 2006, due to its popularity.
He was one of the inaugural editors of the journal Word Structure, and on the basis of a Marsden-funded project, a joint author of The Oxford Reference Guide to English Morphology, which won the Linguistic Society of America's prestigious and coveted Leonard Bloomfield Prize for the best Linguistics book of the year in 2015.
However, his work is not confined to one area. He has also undertaken work on the grammar of New Zealand English, and has been involved in the construction of million-word samples of both written and spoken New Zealand English, called corpora, to facilitate research on the way in which language is used in New Zealand. He has also investigated the New Zealand accent, including its history.
Professor Bauer has also looked at regional differences in how English is spoken in New Zealand and has found more regional variation than expected. One example was another Marsden-funded research study, The Children's Playground Language Project, which studied words children use in primary schools around New Zealand for greetings and farewells and while playing. Two people riding on a bike was called "doubling" in northern New Zealand and south of the Waimakariri River, but "dubbing" in central New Zealand. Likewise, the chasing game was called "tiggy" "tag" or "tig" depending on where in the country the children were.
The medal selection committee noted that his approach to research has been innovative and often controversial and he has made a considerable impact in his field.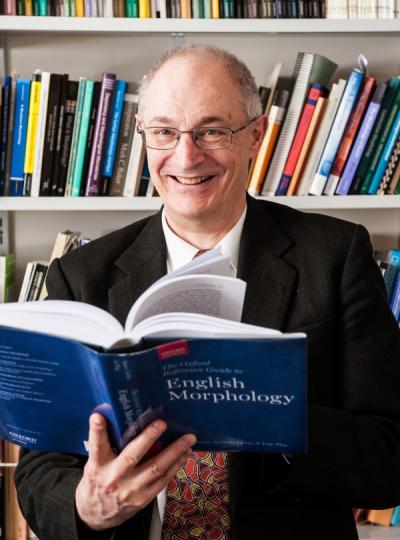 On receiving the medal, Professor Bauer said: "I am honoured to be the sixth recipient of the Aronui Medal, and to be placed among others who have done so much for the Humanities in New Zealand."
Professor Bauer is Emeritus Professor in the School of Linguistics and Applied Language Studies at Victoria University of Wellington. Alongside being Professor of Lingusitics, he was Dean of the Faculty of Graduate Research from 2009-2014. He was elected a Fellow of Royal Society Te Apārangi in 2012.
Humanities Medal:
For research of outstanding merit in the Humanities.
Citation:
To Laurence James Bauer for his world-renowned research that has focussed on word formation, the description of New Zealand English, and the sound structure of language.
Source: Royal Society Te Apārangi