News
Published 17 October 2018
2018 Metge Medal: Connecting Te Ao Māori with clinical practice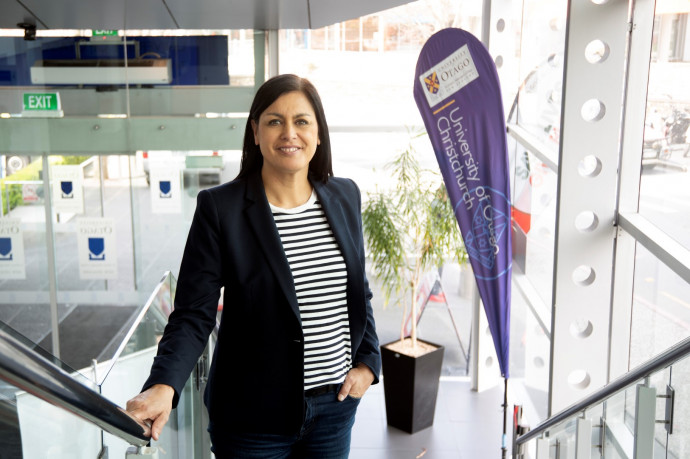 Associate Professor Suzanne Pitama has been awarded the Metge Medal by Royal Society Te Apārangi for her influence on Indigenous health education.
Associate Professor Pitama (Ngāti Kahungunu, Ngāti Whare) is Associate Dean Māori and a founding Director of the Māori Indigenous Health Institute (MIHI) at the University of Otago, Christchurch. She is a registered psychologist and academic who has made a considerable contribution to inspiring and developing new research capacity and knowledge for health professional education to address critical Indigenous health inequities in Aotearoa.
When she began her career in 2001, one hour was devoted to Māori health teaching in the three year curriculum; now there are more than 60 hours.
Her major contribution to health care education in New Zealand has been the design, development and evaluation of entirely new Māori health models applicable to clinical practice: the Hui Process and Meihana Model. This has helped to address inequity by equipping health professionals with skills and attitudes to help them engage effectively with Māori who need health services.
The Hui Process explicitly shows how to respectfully meet with a Māori patient by utilising a traditional method of engagement and fusing clinical relevance at every stage. 
The Meihana Model is a visually powerful image of a double-hulled canoe moving forward through four winds and four ocean currents, with each representing specific journeys of wellbeing, ongoing impacts of colonisation and responsibilities to land and family. 
These models have now been integrated into the Māori health curriculum across the University of Otago's three clinical schools, medical schools at other tertiary institutions, government departments and a broader range of health providers. They are shaping respectful Indigenous relationships and informing the health curriculum in a diverse range of disciplines including medicine, nursing, psychology and social work. 
In addition, Suzanne actively participates in international collaborative research including currently 'Educating for Equity' – a project examining the role of medical education in addressing health disparities in New Zealand, Australia and Canada.
Further, her expansive kaupapa Māori-based methodological research has developed long-lasting relationships with Māori communities.  Her collaborative research spans child mental health, the prevalence of cardiovascular disease in Māori communities, patients living with chronic illnesses, and Indigenous experiences in the health system. 
In awarding this medal, the selection committee noted her considerable contribution to capacity building across the health sector and to promoting the social sciences, through her collaborations and extensive mentoring. "Her work is broad-based, drawing on a range of social science fields and is directly relevant to contemporary health education and most especially in the area of Indigenous health education and training."
On receiving this medal, Suzanne said: "Being able to work in the field of Māori health—to support whānau, hāpu and iwi aspirations for health equity—is a privilege. This award reflects an acknowledgment of the communities and colleagues who have pioneered and championed this area, of whose work I am able to build upon.  I am grateful for a supportive whānau, for my amazing Māori Indigenous Health Institute colleagues and those at the University of Otago who are part of a team addressing health inequities, and for our institution's commitment to support Māori health teaching and research."
Her achievements in curriculum development have been recognised by several international LIME (Leaders in Indigenous Medical Education) awards and peer-reviewed publications. These achievements, and her personal teaching style, have been acknowledged by her receiving the Prime Minister's Supreme Award for tertiary teaching excellence in 2015. Suzanne has also been a finalist for Māori of the Year (TVNZ) for contribution to Māori health, nominated by the Christchurch Māori community.
Metge Medal:
For excellence and building relationships in the social science research community.
Citation:
To Suzanne Georgina Pitama for her considerable contribution to inspiring and developing new research capacity and knowledge for health professional education to address critical Indigenous health inequities in Aotearoa New Zealand.
Source: Royal Society Te Apārangi