News
Published 10 October 2017
2017 Hamilton Award: Using satellite technology to understand our shaky isles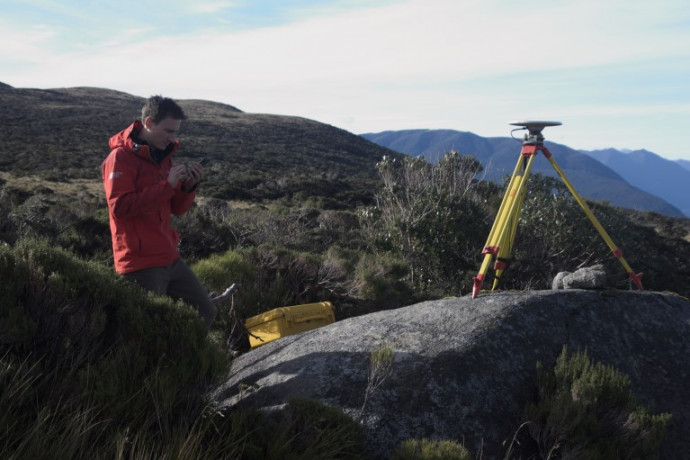 Dr Ian Hamling has received the Hamilton Award, the Royal Society Te Apārangi Early Career Research Excellence Award for Science, for advancing understanding of New Zealand's diverse tectonic and volcanic processes using satellite-based techniques.
His expertise is in using satellite-based radar observations, called InSAR, to measure how the surface of the earth moves in response to tectonic and volcanic processes. This technique, which compares radar images acquired at different times, allows us to detect changes of just a few millimetres.
He led work to define the deformation that occurred during the Kaikoura M7.8 earthquake, integrating InSAR data, Global Positioning System (GPS) measurements and geological field observations to build a definitive model of what had happened within two months of the earthquake. This work, published in the prestigious journal Science, revealed that the event involved rupture of at least a dozen different faults and was the most complex earthquake ever recorded with modern methods. These findings have caused geoscientists worldwide to revisit many fundamental assumptions about how faults rupture in earthquakes, and it has important implications for seismic hazard models. Most seismic models allow earthquakes to jump 5km between faults, but jumps of 15-20km were seen in the Kaikoura earthquake as well as ground uplift by as much as 8 metres.
Dr Hamling has also made important contributions to our understanding of a large variety of other tectonic and volcanic processes in New Zealand and elsewhere. These include his discovery of a previously unknown inflating magma body beneath Matata in the Bay of Plenty region, which may also be the cause of previous large earthquake swarms there. Also that large swathes of the Taupo Volcanic Zone in the central North Island are sinking rapidly. The scale of the subsidence (covering more than 1400 km2) was previously unrecognised and is thought to be due to cooling and contraction of a magma body at around eight kilometres beneath ground surface.
He also undertook one of the first studies worldwide to use InSAR to investigate subduction zone slow slip events, and has led the most definitive work to date on the 2013 Cook Strait and Lake Grassmere earthquakes. Prior to his arrival in New Zealand, he worked on magma intrusion processes in the East African Rift.
The award selection committee noted that Dr Hamling has built up an impressive and diverse body of work in the four years since he arrived in New Zealand, which has contributed greatly to New Zealand geoscience.
On receiving the award, Dr Hamling said: "To be awarded the Hamilton award is a huge honour and I am incredibly grateful for the support of my colleagues who nominated me for the award".
"From an early age I have been fascinated by earthquakes and volcanoes and their role in shaping the land we live on. I feel incredibly lucky to have the opportunity to follow this passion while living in one of the best natural laboratories in the world."
Dr Hamling is based at GNS Science, which awarded him a Science Excellence award in 2016. He was awarded a Marsden Fund Fast-Start grant in 2016, is a Principal Investigator with the European and Japanese space agencies and the New Zealand Volcano supersite. He received Best Paper Award from the University of Leeds in 2011 for his work on the interaction of magmatic intrusions in Ethiopia.
Royal Society Te Apārangi Early Career Research Excellence Award for Science (the Hamilton Award)
For encouraging scientific research in New Zealand by early career researchers.
Citation:
To Ian James Hamling for his substantive contribution to New Zealand geosciences, using satellite-based remote sensing techniques.
Source: Royal Society Te Apārangi