News
Published 23 November 2016
2016 Thomson Medal: Science Leadership for the Agricultural and Horticultural Sector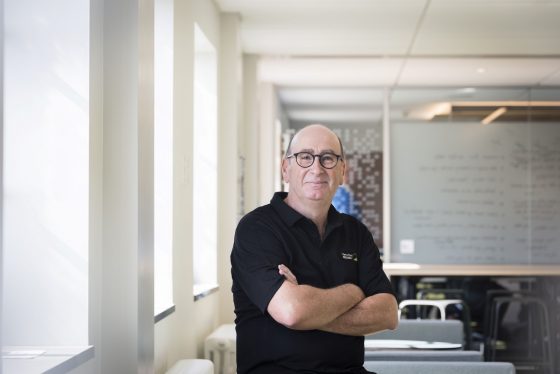 The Thomson Medal for science leadership has been awarded to Dr Bruce Campbell of Plant & Food Research by the Royal Society of New Zealand.


The medal selection committee said that Dr Campbell has demonstrated outstanding leadership of agricultural and horticultural science in New Zealand over 35 years.
"His leadership has had a positive impact on the New Zealand economy, including innovations in forages, wine, kiwifruit and avocado sectors, and he has fostered new science talent and linked science closely with business and the wider community."
The selection committee particularly noted his scientific leadership in responding to the Psa bacterial vine disease, which struck the kiwifruit industry in 2010. He worked closely with Zespri to guide the science response and introduce new genetics and technologies which have allowed the industry to recover.
As Plant & Food Research's Chief Operating Officer, he leads 600 science staff and $135M science portfolio. Former leadership positions have been General Manager Science Operations at HortResearch and Science Leader at AgResearch. He championed the Plant & Food Research merger in 2008 between HortResearch and Crop & Food Research while acting interim CEO at HortResearch. His began his career in New Zealand at DSIR Grasslands, researching climate change impacts on grasslands.
Dr Campbell has attracted leading scientists to New Zealand and established joint graduate schools with universities, growing postgraduate student numbers to over 75 currently. He has been involved in creating a student internship programme for New Zealand. This has attracted more than 250 students to begin their science career. He has also accelerated initiatives to encourage young Māori and Pasifika into science.
Dr Campbell has linked science with Māori businesses for food product innovation, for example with berry fruit, and has been instrumental in developing the Nuku ki te Puku network of innovative Māori food businesses in partnership with Callaghan Innovation.
He has a strong interest in sustainability and climate change, taking a central role as lead author in the 1995 Intergovernmental Panel on Climate Change Working Group, and led the establishment of a science network of 300 researchers in the International Geosphere-Biosphere Programme. He is a Board member of the Bio-protection Centre of Research Excellence that seeks to protect New Zealand from plant pests, diseases and weeds in sustainable ways.
On receiving the award, Dr Campbell said: "I am thrilled and humbled to receive this award. It is a credit to the many talented people I have been privileged to work with over the years."
"I have focused my career on partnering science with users of new knowledge to enhance food, the environment and people. It is great to see this connectivity of science now gathering momentum to enrich our society and wellbeing."
In 2014 Dr Campbell was made a Fellow of the New Zealand Institute of Agricultural and Horticultural Science.
Thomson Medal:
For an outstanding contribution to the organisation, support and application of science or technology.
Citation:
To Bruce Donald Campbell for outstanding leadership in agricultural and horticultural science in New Zealand spanning 35 years.
Source: Royal Society Te Apārangi