2019 Callaghan Medal: "A bridge between worlds" – physical science and mātauranga Māori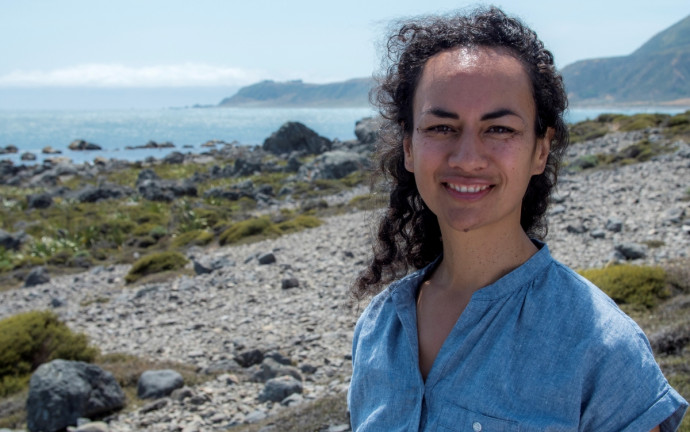 Dr Ocean Mercier from Victoria University of Wellington has been awarded the Callaghan Medal from Royal Society Te Apārangi for her pioneering work to engage audiences in science and mātauranga Māori.
Her science communication work spans television presenting, public talks, online and print writing, and university teaching.
Dr Ocean Ripeka Mercier (Ngāti Porou) received her PhD in physics in 2002, the first Māori women to do so. Her work since has revolved around the application of scientific principles and mātauranga Māori to real-world problems and she has used her communication skills to raise the public awareness of the value of science and mātauranga Māori to a wide audience.
Development of her multidisciplinary background and communication skills were actively encouraged by her postdoctoral supervisor Sir Paul Callaghan in 2002, and later prompted him to call her a "bridge between worlds". It is fitting that Ocean is receiving the Callaghan Medal, named after Sir Paul Callaghan.
Ocean is widely known for her role as a TV presenter. She has hosted two seasons of Project Mātauranga (2012, 2013). This programme investigates how Māori people, knowledge and methods work with the scientific community to solve a variety of problems. As presenter of Project Mātauranga, Ocean focused on te tai ao, or the natural environment, communicating – using both English and te reo Māori – traditional and contemporary Māori science innovations, and responses to threats to national taonga such as kauri dieback, psyllid disease, geothermal pollutants and climate change. The programme has had repeat primetime screenings on Māori Television and broadcasts internationally on NITV Australia.
Ocean was also a presenter on the third season of Coast New Zealand (2018).
Her numerous lectures, speaking and workshop engagements connect with a variety of audiences — school aged and tertiary learners and educators, scholars and researchers, policymakers, and the wider public — in Aotearoa New Zealand and overseas, are a testament to her commitment to unpacking mātauranga for a range of audiences. Her feature article on mātauranga and science was published in New Zealand Science Review in 2018 and she is currently co-editing a special issue on 'mātauranga and science in practice and policy' for the journal.
Ocean's public communication of science is only part of nearly two decades of research and teaching in physics and in Māori Studies. She has developed a unique programme of university lectures and courses that critically examine the sciences from Māori and international Indigenous perspectives. She designs curricula that engage students in research projects, connecting them to real world problems. She also involves students in critical questions around epistemological, scientific and technological advancement. She leads her school's Te Kawa a Māui Atlas project, a digital repository of critical cultural mapping from Māori Studies students, that reflects their iwi kōrero and histories.
Her research contributions in the Vision Mātauranga space include two new projects — on ocean hindcasting and forecasting, with MetService; and on groundwater, with GNS. She is also an investigator on a National Science Challenge: Our Biological Heritage research project with Professor Phil Lester, in which her and her team of Masters students explore perceptions of novel biotechnological controls of pest wasps. She communicates these issues to the public on her blog maaminga.wordpress.com.
On receiving the Callaghan Medal Ocean said:"Paul Callaghan is one of many people who has supported my career, so this medal is a big deal. Exploring the mātauranga and science interface in the public eye is something Sir Paul possibly foresaw me doing, when he encouraged me to learn te reo Māori in between writing our paper on Antarctic sea ice diffusion. I'm hugely proud and honoured to be winning an award named after the maestro of science communicators, and my mentor."
Dr Ocean Mercier is a Senior Lecturer in Te Kawa a Māui (Māori Studies) at Victoria University of Wellington. In 2017, she was awarded the inaugural Lucy Cranwell Medal for science communication by the New Zealand Association of Scientists. She received an Ako Aotearoa Tertiary Teaching Excellence Award in 2012 in recognition of her teaching, which followed a Victoria Univeristy of Wellington Teaching Excellence Award in 2011.
Callaghan Medal:
For an outstanding contribution to science communication and raising public awareness of the value of science to human progress.
Citation:
To Ocean Ripeka Mercier for her pioneering work in engaging publics in science and mātauranga Māori