2019 Humanities Aronui Medal: Giving vibrant voice to Pasifika poetry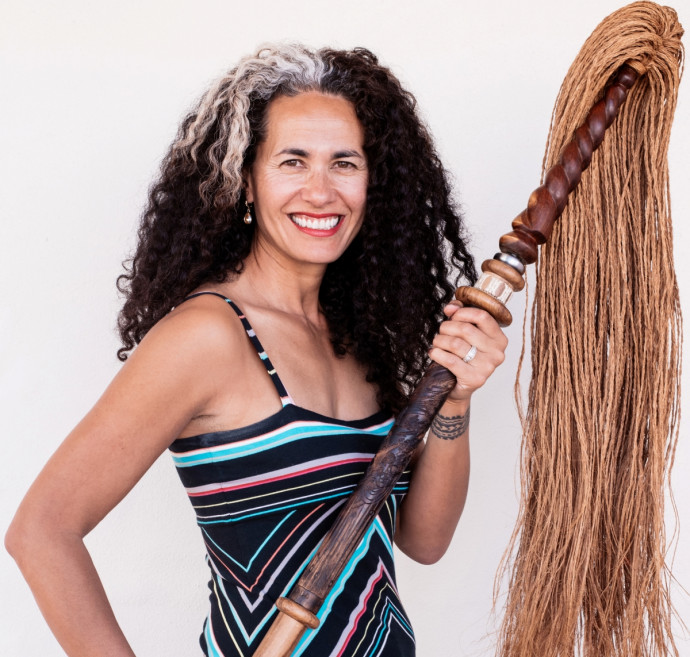 Former New Zealand Poet Laureate and notable Pacific scholar Associate Professor Selina Tusitala Marsh ONZM has been awarded the Humanities Aronui Medal by Royal Society Te Apārangi for her outstanding creative and scholarly work which has had a profound impact in academic, literary and public domains.
A notable Pacific feminist scholar and vanguard Pacific poet, when Associate Professor Selina Tusitala Marsh obtained her undergraduate degree in English from University of Auckland, she was the first Pasifika student to do so, despite Auckland's claim as the largest Pacific city in the world. She also found that little attention had been paid to Pacific poets. Selina has worked tirelessly for the last ten years to bring the voices of Pasifika poetry, her own and others, to the forefront
Winner of the 2010 New Zealand Jessie Mackay Award for Best First Book of Poetry for Fast Talking PI (2009), Selina's subsequent poetry books have also been highly acclaimed nationally. Dark Sparring (2013) made the Top 5 New Zealand Best Seller list and the 2013 New Zealand Listener's Best 100 Books list. Tightrope (2017), longlisted for the New Zealand Ockham Book Awards, was described as "lively, sharp, clear-eyed, and by turns, comic, irreverent, poignant, rhapsodic, anthemic, confrontational". Her poetry, which speaks to diverse audiences and crosses cultural boundaries, is available in six languages. Widely praised for their combination of lyricism and sociological power, Selina's poems reflect the deep integration of the creative and the scholarly that is a distinctive and powerful feature of her work. In addition to her poetry collections, has been published in over seventy national and international anthologies, academic texts, journals, and on various websites.
Associate Professor of English at the University of Auckland, Selina's scholarship bridges Literary Studies and the emergent field of Pacific Literature, which she has helped to shape. Her Pacific feminist work informs new indigenous research frameworks, indigenising western literary theories and producing a distinctive scholarly-creative Pacific literary criticism. She has contributed significantly to new Pacific pedagogies for teaching literature, and has a sustained record for mentoring Māori and Pacific students.
Selina has lectured and performed widely, participating in more than 120 national and international performances. She has taken her poetry to Pacific educational and national leadership programmes (for both corporate and NGO sectors), led over 80 creative-based workshops for community and professional organisations, spoken and mentored at over 20 schools and delivered over a dozen keynotes at conferences and symposia.
Selina also coordinates the Pasifika Poetry site, the only audio, visual and textual archive of Māori and Pacific poets; she has served on the NZ Book Council, regularly participating in its Writers in Schools Programme, and she has chaired the South Pacific Association of Language and Literature Studies and edited its annual journal.
On receiving this medal, Selina said: "It's pure poetic synchronicity! The Aronui Medal is being awarded to me on the same day as my first graphic memoir, 'Mophead', hits the bookshelves. This for-all-ages book tells the tale of how I grew from being an 8 year old who 'stuck out' for having too big hair and teased as a 'mophead', to becoming the first New Zealand Poet Laureate of Pacific descent. It also showcases my research on the first Pacific women poets to the most broadest audience. This is what my work has always been about: taking poetry to the people. It's wonderful for Royal Society Te Apārangi to recognise its impact."
Recipient of numerous honours, Associate Professor Marsh was appointed an Officer of the New Zealand Order of Merit for services to poetry, literature and the Pacific community in 2019. She was appointed New Zealand Poet Laureate (2017-2019) and Commonwealth Poet (2016).
Humanities Aronui Medal:
For research or innovative work of outstanding merit in the humanities.
Citation:
To Selina Tusitala Anne Marsh for her outstanding creative and scholarly work as a poet and notable Pacific scholar which has had a profound impact in academic, literary and public domains.