2019 Pou Aronui Award: Championing New Zealand culture to be seen, read and heard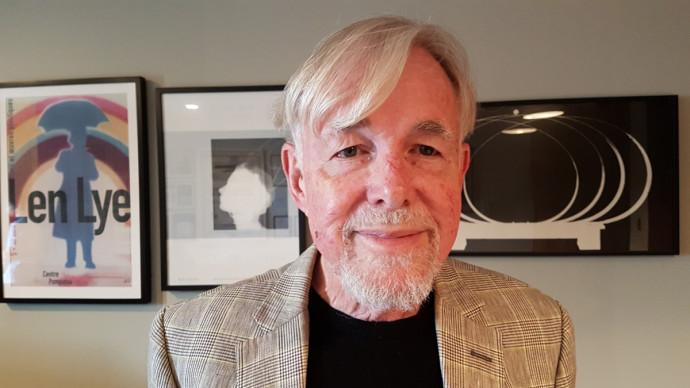 Professor Emeritus Roger Horrocks MNZM has been awarded the Pou Aronui Award by Royal Society Te Apārangi for being a champion of New Zealand culture, particularly New Zealand's film and television industries, as well as literature and the visual arts.
Professor Horrocks has worked tirelessly in New Zealand culture since the 1960s. He has served as a teacher, researcher, writer, director, mentor, catalyst, administrator, and analyst on behalf of scholars, teachers, students, practitioners, government, networks, publishers and audiences.
Roger pioneered teaching Film, Television, and Media Studies in New Zealand universities, just as a new film industry was emerging in New Zealand in the 1970s. He taught, inspired, and mentored many who would play major roles in filmmaking or teach film at tertiary level. He also helped establish teaching of film and media in New Zealand's secondary schools.
He has also advanced many aspects of Aotearoa's film and television industries, serving on the Film Industry Working Party, as a Board Member and Deputy Chair of NZ On Air, on QE2 Arts Council and Creative NZ committees and the NZ Film Commission Short Film Fund.
Roger helped establish many cultural organisations, such as the Auckland International Film Festival, the National Association of Media Educators, Artspace, the NZ Electronic Poetry Centre, NZ On Screen, and Script to Screen, influential literary magazines, and was part of a planning group for Te Ara Encyclopedia of New Zealand.
He is an expert on the life and work of New Zealand-born artist and filmmaker Len Lye. Roger's research, writing, and curating catalysed the re-discovery of Len Lye in New Zealand. He edited three collections of Lye's writings, wrote Lye's biography – which was a finalist in the New Zealand Book Awards—and helped plan and establish the highly successful Len Lye Centre in New Plymouth, the first New Zealand museum devoted to the work of a single artist.
Roger has also published collections of his own poetry, written an opera libretto, and helped make 22 films, as a director, writer or researcher, especially as a researcher for the documentaries directed by his wife, Shirley Horrocks ONZM, creating profiles of many New Zealand artists, writers, and scientists (including recently Sir Paul Callaghan).
On receiving the Pou Aronui Award, Roger said: "This award from Royal Society Te Apārangi means a lot to me because it acknowledges the importance of the humanities and the arts as part of our way of life. Local support for those areas is vital if we want to live in a country that has a lively, diverse, independent culture. And they strengthen our sense of history. Our society hasn't always encouraged those values, or understood how much they contribute to our quality of life as well as our economy. Cultural activities are a cause to which many scholars and artists are committed, and I want to accept this award on their behalf as well as my own."
Professor Horrocks was made a Member of the New Zealand Order of Merit in 2004 for services to media education and the film and television industries. He has received many awards and grants including a Distinguished Teaching Award from the University of Auckland in 1998 and a 10K Award from New Zealand on Air in 2002 for services to broadcasting. Most recently he was awarded a residency at Michael King Writers' Centre (2015) and a New Zealand History Research Trust Fund Award in 2015.
Pou Aronui Award:
For distinguished service to the humanities-aronui.
Citation:
To Roger John Horrocks for his tireless work over five decades in New Zealand culture, in film, television, literature, and the visual arts.