2019 Hutton Medal: Why New Zealand is one of the weediest nations and what to do about it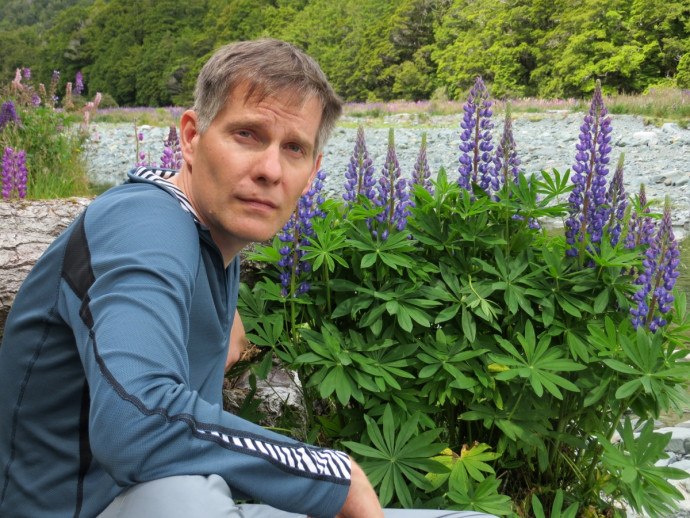 Distinguished Professor Philip Hulme FRSNZ has been awarded the Hutton Medal by Royal Society Te Apārangi for his outstanding contributions to knowledge about plant invasions in New Zealand and internationally.
Based at the Bio-Protection Research Centre at Lincoln University, Professor Hulme has investigated many aspects of invasive plant species: how they are introduced, how they get established, the harm they cause and what can be done to prevent or manage invasions. Philip has provided insightful contributions to these questions and has shared this knowledge, creating tools for managing plant invasions with other scientists, conservation workers and policy makers worldwide.
New Zealand has more non-native plants covering the land than almost anywhere else in the world. Each year billions of dollars are spent managing pest plants across the country; yet, invasive plants are one of the most intractable issues concerning New Zealand's environment and they have the potential to transform vast areas. They suppress or replace native vegetation, and often significantly alter soils and ground water, and may heighten risk of fire.
Once wild in New Zealand, invasive plants are often extremely difficult to get rid of. Our options for control are few as exotic plants often resist or survive herbicide application, spread rapidly and can be favoured by the disturbance caused by control efforts. Invasive plants in New Zealand are a big problem for both agriculture and our conservation estate and Philip has generated new insights into the vulnerability of our croplands, rivers, high country and alpine environments to plant invasions.
So where do these invasive plants come from? Contrary to what many have thought in the past, Philip's research has established that many have come from botanic gardens and ornamental nurseries. He calls exotic garden plants "ticking time-bombs": for many of these plants it is only a matter of time before they escape our gardens and become problem plants.
Philip has assessed how botanic gardens, ornamental nurseries and the pastoral sector have facilitated plant invasions, but, in each case, he has also presented clear and practical policy recommendations to both government and industry as to how to reduce or manage this threat. In doing so, he has demonstrated world-class leadership in bridging the science-policy interface, which has led to changes in the way scientists and policymakers address biological invasions at an international level.
On receiving the award, Philip said: "The Hutton Medal has traditionally been awarded for contributions to knowledge of our native fauna and flora, so to receive the award for my research on non-native species is truly an honour. It perhaps reflects wider recognition that, whether we like it or not, non-native plants are major components of our environment that demand greater scientific understanding."
Professor Hulme has achieved international eminence in the study of plant invasions and his research is highly cited. He has published over 200 papers in international journals, and is the only New Zealand-based environmental scientist to be listed among the world's Highly Cited Researchers in each of the last five years, reflecting that his research outputs are often ranked among the top 1% most cited in his discipline. He has been involved in many overseas research programmes funded by the EU, the Australian Commonwealth, and the Chilean government. He was elected a Fellow of Royal Society Te Apārangi in 2013 and in 2018 was awarded the Leonard Cockayne Lecture Award by the Society and his talk 'Ornamental to detrimental: The invasion of New Zealand by non-native plants' was very popular, with additional talks added to the tour schedule.
Hutton Medal:
For significantly advancing understanding in animal sciences, earth sciences or plant sciences.
Citation:
To Philip Eric Hulme for his outstanding contributions to the knowledge of plant invasions in New Zealand, especially his innovative insights into why and how non-native plants become invasive weeds.