2019 Hector Medal: Building bionic – biosensing, biomedicine, bioelectronics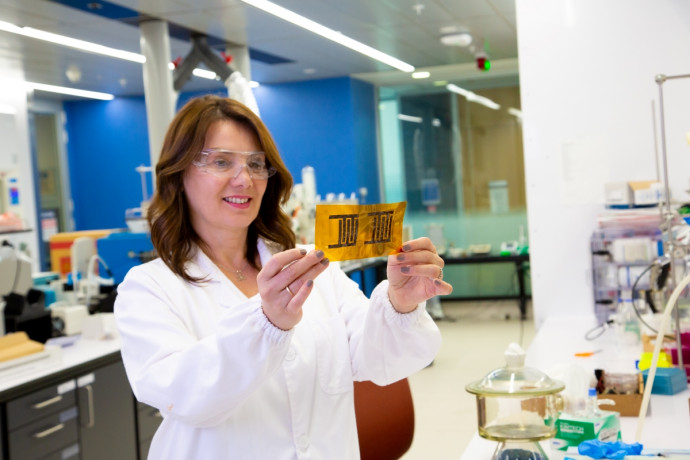 Professor Jadranka Travas-Sejdic FRSNZ has been awarded the Hector Medal by Royal Society Te Apārangi for her outstanding contribution to the field of advanced polymers and nanomaterials and their application in biosensors, biomedicine and bioelectronics.
Based at the School of Chemical Sciences at The University of Auckland and a Principal Investigator for the MacDiarmid Institute, Professor Travas-Sejdic explores the fundamental aspects of materials composed of polymers and applies these findings to create polymer electronic devices for biomedical applications.
As the director of the Polymer Electronics Research Centre, she has initiated and led programmes crossing chemistry, biology, medicine and engineering disciplines.
She also pursues science translation. She co-founded and was the Executive Director of SpotCheck Technologies, a spin-off company based on her research that was developing hand-held, cost-effective systems for the electrical detection of DNA, including detecting bacteria in water.
Jadranka's research into stretchable electronics – electronics that can stretch and heal without loss of electronic function – is world-leading and has enormous potential for wearable and implantable electronics that can mimic biological functions. She has developed a unique and versatile approach to the molecular engineering of intrinsically stretchable, adhesive and healable polymers, allowing her group to "tune" the material's mechanical properties while preserving electronic properties.
Her research into novel nanomaterials with unique optical properties for biomedical applications has also had significant impact. Her group pioneered the development of luminescent carbon-based 'nanodots', which have since proven to have wide-ranging applications in life science research, such as in cell imaging. Her publications in this area have been highly cited and have contributed to the launch of the field of 'carbogenic nanomaterials'.
Beyond her research achievements, Jadranka has served in many science leadership and mentoring roles. She has chaired two large international conferences (including related public events for wider public engagement), delivered numerous keynote, plenary and invited talks at international conferences, and actively supports young researchers' careers, including officially through The University of Auckland's Women in Leadership Programme. She also serves on the Council of the Pacific Polymer Federation and on the Council of the Australian Institute for Nuclear Sciences.
On receiving the Hector Medal, Jadranka said: "I am deeply honoured to receive this prestigious award. I would like to sincerely thank the Royal Society Te Apārangi. I would like to thank my past and current research group –talented and hard-working postgraduate students and post-doctoral fellows, and also my collaborators both in New Zealand and worldwide, and my colleagues at The University of Auckland and the MacDiarmid Institute who have also been my mentors and friends over the years. They all contributed to this award and without them my achievements would not be possible and the journey wouldn't be so enjoyable."
Professor Travas-Sejdic was made a Fellow of the New Zealand Institute of Chemistry in 2009, a Fellow of the International Union of Pure and Applied Chemistry (IUPAC) in 2011 and a Fellow of the Royal Society of New Zealand in 2017. Prizes she has received include the Shorland Medal from the New Zealand Association of Scientists in 2018, Maurice Wilkins Centre Prize for Chemical Sciences from the New Zealand Institute of Chemistry in 2017 and the Easterfield Medal from the New Zealand Institute of Chemistry/Royal Society of Chemistry, UK in 2008.
Hector Medal:
For outstanding work in chemical, physical sciences, or mathematical and information sciences.
Citation:
To Jadranka Travas-Sejdic for her outstanding contributions to the field of advanced polymeric and nanomaterials and their applications in biosensing, biomedicine and bioelectronics.