Kelly Burrowes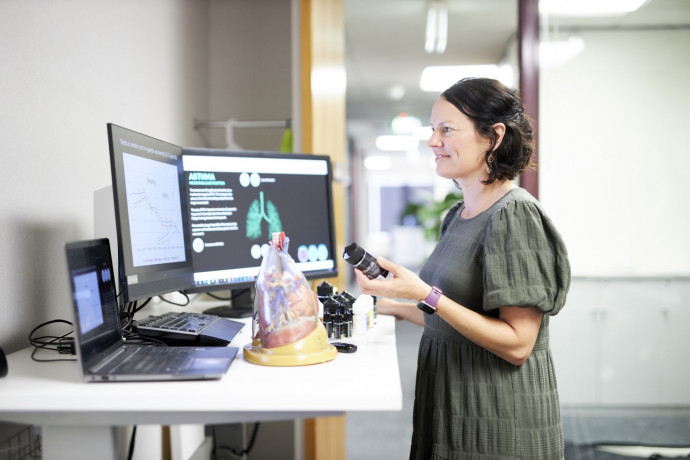 Associate Professor Kelly Burrowes. Photo: Supplied.
2023: Associate Professor Kelly Burrowes, from Waipapa Taumata Rau The University of Auckland, has been awarded a James Cook Research Fellowship for research titled ''Imaging, exhaled breath, and in silico models: innovative biomarkers to predict the long-term health effects of vaping'

Published on 27 Whiringa-ā-nuku October 2023
Biography
Associate Professor Kelly Burrowes of the Auckland Bioengineering Institute is an internationally and nationally recognised expert in respiratory health. After completing her graduate studies at the University of Auckland, she conducted postdoctoral research at the University of Oxford, UK, before returning to Aotearoa. Her research at the interface of technology, engineering, and medicine has received over $4.7 million in funding from sources including the European Commission, Marsden Fund, the Heath Research Council of New Zealand and National Institutes of Health, USA. To date her work has attracted 1100 citations across 58 peer-reviewed publications, 3 book chapters, and 56 conference presentations.
Associate Professor Burrowes is also passionate about science communication and aiding the next-generation of scientists. Initiating a social media campaign to raise awareness on the science and heath effects of vaping (@ScienceofVaping on Instagram and Facebook). She also appears regularly in the New Zealand media, gives numerous community talks and mentors outreach programmes.
Research summary
Electronic cigarettes (vapes) are omnipresent in modern culture. In Aotearoa New Zealand, 8% of adults and 18 % of 15–17-year-olds self-report as users of e-cigarettes, with young Māori females being a particularly vulnerable group (25 % self-reported users). Vapes are positioned as healthier alternatives to tobacco smoking by industry and government alike, but is this true? Currently we know little about the short- or long-term health consequences of vaping. Evidence to date shows vaping causes changes in our cardiovascular systems and inflames lung tissue. Vaping products have also been shown to contain potentially harmful flavouring chemicals and heavy metals. Associate Professor Burrowes and her team hypothesise that early warning signs of health changes ("biomarkers") are an important way to track the health implications of vaping. The key is to know which biomarkers are relevant.
In this James Cook Research Fellowship, Associate Professor Burrowes will study a suite of biomarkers via medical imaging (such as CT scans), cardiovascular measurements, breath analysis and computer modelling. By distilling the above results, a biomarker framework to assess vaping-induced injury/damage will be created. Ultimately, this research aims to create a holistic understanding of vaping-related changes occurring in our bodies and the mechanisms that drive them.
Associate Professor Burrowes will use her media links to regularly communicate the implications of her findings with the public. She'll also work closely with community and iwi organisations such as Asthma and Respiratory Foundation NZ, Life Education Trust, Hāpai Te Hauora, and Iwi United Engaged to inform people about the potential health risks of vaping, with a particular focus on reducing youth uptake.