Nick Mortimer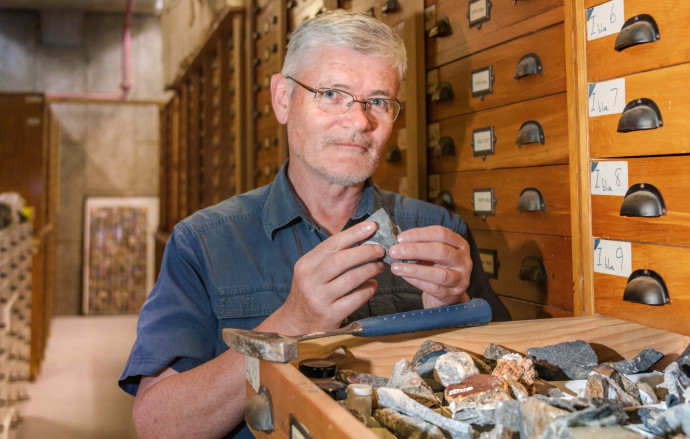 Dr Nick Mortimer, GNS Science. Photo: Margaret Low.
2022: Dr Nick Mortimer FRSNZ, of Te Pū Ao GNS Science, has been awarded a James Cook Research Fellowship in the Physical Sciences for research titled: 'Te Riu-a-Māui / Zealandia: Earth system science, discovery and origins'
Biography:
Dr Nick Mortimer is a geologist with expertise in petrology and geochemistry. He obtained his PhD from Stanford University in 1984, and came to New Zealand on a DSIR postdoctoral fellowship. Dr Mortimer's career at GNS Science has led to scientific advances in many aspects of the onland and offshore regional geology and tectonics of Aotearoa, Te Riu-a-Māui / Zealandia, and the Southwest Pacific Ocean. His research synthesises multiscale information across geoscience disciplines, drawing on his broad working knowledge of Zealandia's igneous, metamorphic, sedimentary and tectonic makeup, and its 500-million-year geological history. Dr Mortimer was elected a Fellow of the Royal Society Te Apārangi in 2017, and in 2020 received a Science New Zealand Individual Lifetime Achievement Award.
Research summary:
Te Riu‐a‐Māui / Zealandia is the world's eighth and most‐recently discovered continent. It is remote, mostly submerged, and home to unique and diverse plants and animals. It has taken hundreds of years for the science behind the discovery of this continent to mature, and there is still much to explain and communicate about the continent's exploration, framework, and beginnings.
For this James Cook Research Fellowship project, Dr Mortimer will produce an up to date, authoritative review of the geological makeup and ancestry of the continent of Te Riu-a-Māui / Zealandia.
Māori history and traditions provide interesting parallels, timescales, and context for the scientific view of the continent, and vice-versa. During the fellowship, Dr Mortimer will seek collaborators to bridge the physical sciences and mātauranga Māori. The intent is to produce a ground-breaking and inspiring publication for general audiences that explains the geological exploration, discovery, and origins of our continent alongside Māori perspectives of its exploration, discovery, and origins.
This James Cook Research Fellowship will contribute an Earth science backdrop for a more scientifically aware society, facilitating kaitiakitanga of our land and ocean. It will also foster better future management of societal challenges in energy, natural resources, natural hazards, climate change, and conservation. As well as the written outputs, results from the project will be presented as public talks around the motu.