Regina Scheyvens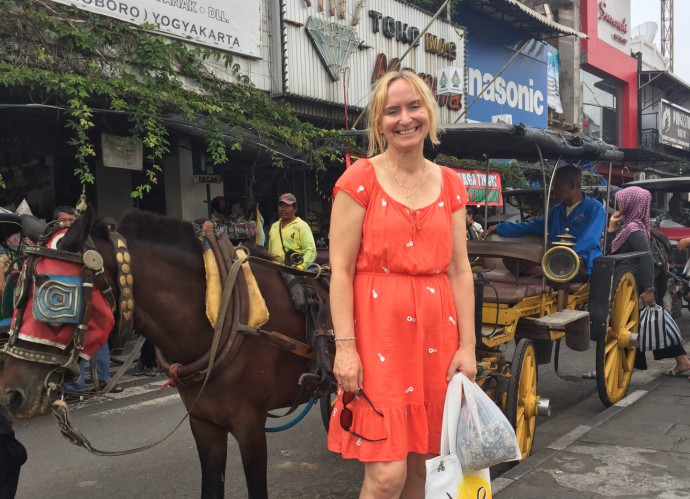 Professor Regina Scheyvens doing field work in Yogyakarta, Indonesia. Photo: Supplied
2020: Professor Regina Scheyvens, Massey University, has been awarded a James Cook Research Fellowship for research titled 'The re-development of tourism in Aotearoa and the Pacific post-pandemic: seeking sustainable, self-determined Indigenous development'
Biography
Regina Scheyvens is Professor of Development Studies at Massey University, where she combines a passion for teaching about international development with research on tourism and sustainable development. Two major books have emerged from this research: Tourism for Development: Empowering Communities (Pearson, 2002), and Tourism and Poverty (Routledge, 2011). Professor Scheyvens' interest in responsible and ethical research led her to edit Development Fieldwork: A Practical Guide (Sage, 2014). Underlying all of her work is a concern for social justice, empowerment of the marginalised, respect for people and planet, and valuing alternative approaches to development. She has published a wide range of articles on tourism, small island states, the Sustainable Development Goals and corporate social responsibility. The South Pacific is the main focus of Professor Scheyvens' research.
Research summary
Tourism is of great importance to economic wellbeing in Aotearoa, and in the Pacific Islands included in this study (Samoa, Fiji, Vanuatu and Cook Islands). With the arrival of COVID-19, tourism has been severely affected because border closures in these places have prevented international arrivals. Resorts, hotels and attractions across the region are empty: 150,000 Fijians are out of work and there is concern that 100,000 jobs may permanently disappear in Aotearoa. All of these countries are keen to re-establish tourism once it is safe to do so. This research aims to explore ways of achieving sustainable, self-determined tourism that supports Indigenous wellbeing in the Pacific region.
The impact of COVID-19 on the tourism sector provides a unique opportunity to rethink how tourism can more sustainably benefit Aotearoa and the Pacific. In view of the critiques of the neoliberal growth model, the negative effects of over-tourism, and the failure to distribute the profits of tourism, this project seeks to put Aotearoa and the Pacific at the forefront of developing future tourism that is beneficial to both people and the planet. Building on Indigenous knowledge and using a Vanua research framework, the project will conduct a stock-take of the impacts of COVID-19 on these tourist destinations. It will analyse the policies and strategies being developed in response to the crisis, hold widespread discussions/kōrero/talanoa with affected people and, on the basis of these, re-imagine tourism using Indigenous voices and concepts.
In this research, Indigeneity, which often takes a back seat in the expectations and wants of the industry and tourists, is front and centre. It is critical for Indigenous people and the environment that a 'business as usual' approach is not adopted and that more sustainable and equitable methods are employed to re-imagine the tourism sector. The knowledge generated by this research will be shared with researchers, government officials, tourism industry businesses, Indigenous organisations, and the general public via a variety of media, including a dedicated YouTube channel on 'Indigenous voices on tourism'.