Peter Fineran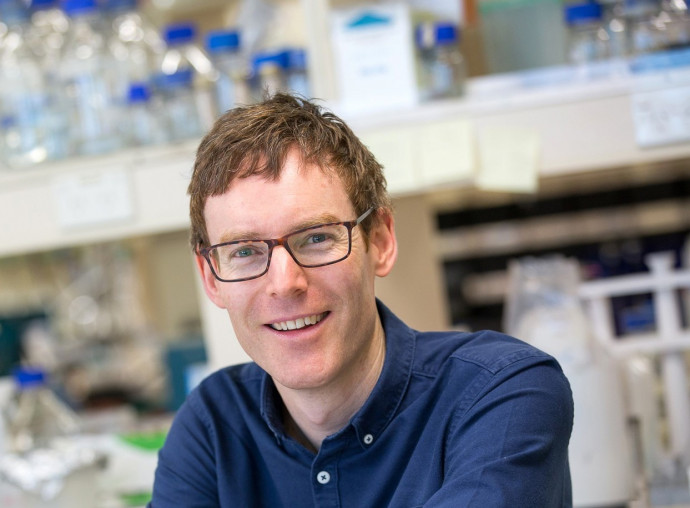 Professor Peter Fineran. Photo: Sharron Bennett.
2023: Professor Peter Fineran FRSNZ, from Te Whare Wānanga o Ōtago the University of Otago, has been awarded a James Cook Research Fellowship for research titled "A high-throughput mutagenesis method to identify essential phage genes and introduce genetic cargo".
Published on 27 Whiringa-ā-nuku October 2023
Biography
Professor Fineran is a Fellow of Royal Society Te Apārangi and leads the Phage-host interactions (Phi) laboratory at Te Whare Wānanga o Ōtago the University of Otago. Professor Fineran completed his undergraduate training at Te Whare Wānanga o Waitaha the University of Canterbury and his doctoral and postdoctoral training at the University of Cambridge, UK, before returning to Aotearoa New Zealand as an independent researcher. He has received various national and international honours, including an Alexander von Humboldt Experienced Researcher Fellowship and a Rutherford Discovery Fellowship. Professor Fineran is also the only New Zealander to have received the Fleming Prize (Microbiology Society, UK).
Professor Fineran and his team study the complex world of molecular microbiology and virology, with a particular focus on the CRISPR-Cas bacterial adaptive immune system. Professor Fineran has authored over 120 peer reviewed journal articles in prestigious journals including Nature, Science and Nature Microbiology.
Research summary
Like humans, bacteria are susceptible to viral infections – and these can be deadly. Viruses that infect bacteria, known as "bacteriophages", or simply "phages", are the most abundant biological entities on Earth. Due to their ability to kill bacteria, they are currently being explored as antimicrobial agents in medicine and agriculture. In order to safely exploit phages as antimicrobials, we need a thorough understanding of their biology, including the functions of their genes.
Bacteria have developed defence systems against phages, and, in response, some phages have evolved "anti-defence genes" to overcome them. Many of these have only been discovered by science in the last five years. In this James Cook Research Fellowship, Professor Fineran will develop a high-throughput method of introducing mutations into phage genomes. Using this method, which will take inspiration from his group's previous successful work in bacteria, he will create a library of phages with different mutations spanning the entire genome. This library can be used to identify which genes are essential for phages to infect and kill bacteria, and to investigate their roles in the infection process. His mutagenesis method will also be used to introduce anti-defence genes into phage genomes to determine how they allow phages to overcome bacterial defence systems. This fundamental research will make it easier to rapidly generate phages that can evade specific bacterial defence systems - an important step towards using phages for the treatment of antibiotic-resistant bacterial infections.