Brenda Shore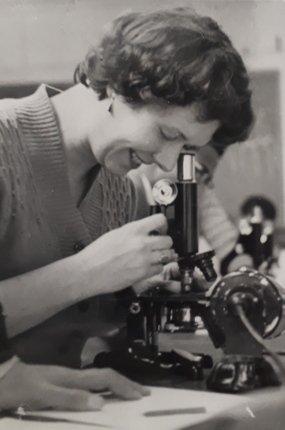 Brenda Shore. Source: Alexander Turnbull LIbrary, Wellington, New Zealand. Ref: PA1-q-1058.
A prominent figure in the botany department at the University of Otago, Brenda Shore was appointed as an Assistant Lecturer in 1945. At the time there were three women – Shore, Betty Batham and Margaret Cookson – who kept all of the botany lectures going. Shore won a scholarship for further study at Cambridge University, and received a PhD in 1954 looking at the leaf vein structure of a kind of flowering plant. She specialised in leaf development, and looked at the breeding systems of New Zealand plants including the small evergreen tree putaputaweta or marble leaf.
Shore was enthusiastic and enterprising, and reached the position of Associate Professor in 1971. When she retired in 1983, just 20 of the 370 staff at this level in New Zealand universities were women. Shore was also active in music and the arts, became known for her fabric paintings and watercolour flowers, and was one of only a few women of her time qualified as an amateur radio operator.

Reference:
'NZBotSoc No 52 June 1998', accessed 15 October 2017, http://www.nzbotanicalsociety.org.nz/newsletter/NZBotSoc-1998-52.pdf.
This profile is part of the series 150 Women in 150 Words that celebrates women's contributions to expanding knowledge in New Zealand, running as part of our 150th Anniversary.