Pérrine Moncrieff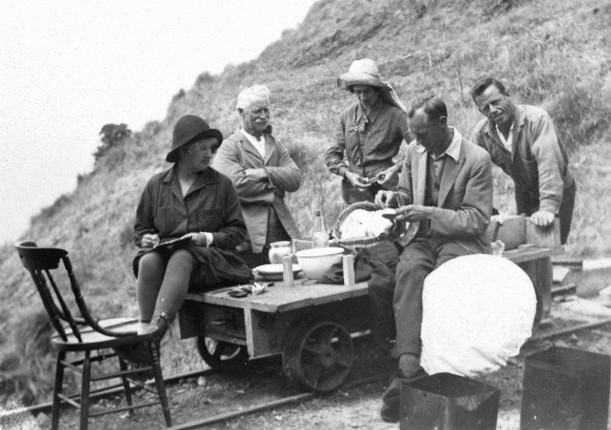 Ornithologist (1893-1979)
Known in Nelson as "the bird woman", Pérrine Moncrieff published New Zealand's first ornithological field guide N.Z. Birds: how to identify them, in 1925. It was aimed at bird lovers, but influenced scientists and ran to five editions.1,2 Moncrieff had emigrated to New Zealand from England in 1921 and was delighted by the bird life she found.

She was less enthralled by the killing of native birds to adorn women's dresses and spoke in "indignant protest" at the Royal Australasian Ornithologists' Union, of which she became the first female president in 1937. Moncrieff described "The destruction of an avian paradise" in articles in 1940 and went on to campaign against a bounty on kea, and for the protection of habitat needed for migratory and other birds. Almost single handedly responsible for the creation of Abel Tasman National Park,3 Moncrieff also published a book on the history of that area.
Image: Perrine Moncrieff on the left with, from left to right, Mr Martin, Mrs Claasen, Mr Gourlay, and possibly Mr Osborne. Source: National Library of New Zealand.
References:

1. Charlotte Macdonald, Merimeri Penfold, and Bridget R. Williams, The Book of New Zealand Women (B. Williams Books, 1991), p. 448.

2. New Zealand Ministry for Culture and Heritage Te Manatu Taonga, 'Moncrieff, Pérrine', Web page, accessed 2 August 2017, /en/biographies/4m57/moncrieff-perrine.

3. 'Pérrine Moncrieff', Wikipedia, 16 July 2017, https://en.wikipedia.org/w/index.php?title=P%C3%A9rrine_Moncrieff&oldid=790885561.
This profile is part of the series 150 Women in 150 Words that celebrates women's contributions to expanding knowledge in New Zealand, running as part of our 150th Anniversary.