Winifred Boys-Smith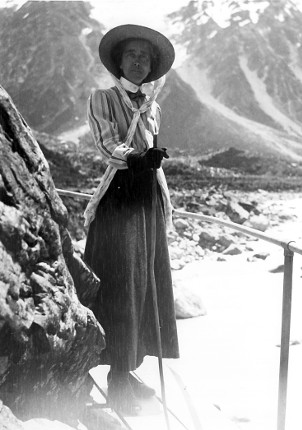 Winifred Boys-Smith at Franz Josef Glacier. Source: Te Ara with permisson from Honor McKellar.
University Professor (1865-1939)
Born in England, Winifred Boys-Smith attended Cambridge on a mathematical scholarship and was a talented botanical artist, but was not granted a degree. At the time women could only gain certificates. When Boys-Smith moved to New Zealand she became our first female professor, teaching at Otago University's new school of home science and domestic arts. The new school was seen by some as a way of staving off an impending social crisis stemming from a declining birth rate, social change and women competing academically against men. Boys-Smith saw it as "a great force in the education of women" and when classes began in the old School of Mines' "Tin Shed" in 1911, they included the subject of chemistry as well as practical cookery classes.1 It is largely thanks to Boys-Smith that domestic science was a credible part of New Zealand's university curriculum. The subject also became a compulsory girls' school subject from 1917, and some later female scientists have felt that this held back the teaching of pure science compared with boys' schools.2 Boys-Smith returned to England in 1921 where she retained an interest in science and scientific drawing.
References:

1. New Zealand Ministry for Culture and Heritage Te Manatu Taonga, 'Boys-Smith, Winifred Lily', Web page, accessed 4 September 2017, /en/biographies/3b41/boys-smith-winifred-lily.
2. Paula Martin, 'Profiles of Senior New Zealand Women in Science', Lives with Science, 1993, p. 6.
This profile is part of the series 150 Women in 150 Words that celebrates women's contributions to expanding knowledge in New Zealand, running as part of our 150th Anniversary.