Kate Edgerley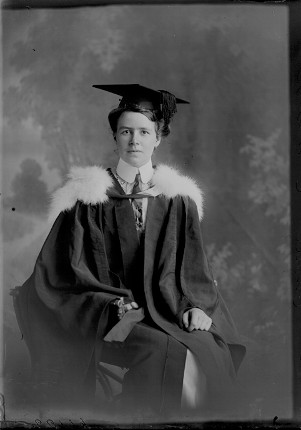 Kate Edgerley in 1911, the year she graduated from Auckland University College. Source: Sir George Grey Special Collections, Auckland Libraries, 31-66179.
Botanist and teacher (1887-1939)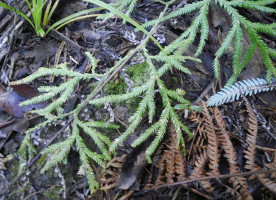 Kate Edgerley's grandfather may have been New Zealand's first resident plant collector. John Edgerley arrived in the Hokianga in 1835 to work as a gardener and botanist. He would have been proud, no doubt, if he could have seen his granddaughter Kate win first prize for science at Auckland Grammar School seventy years on. Kate Edgerley went on to receive a Masters with first class honours in botany at Auckland University College in 1911. In 1915, her research was published in the Royal Society Te Aparangi's Transactions – "The prothallia of three New Zealand lycopods", which looked at the part of clubmosses which bear the sexual organs.
Edgerley taught at Auckland Girls' Grammar School – by this time the original school had separated into different schools for girls and boys – right up until her sudden death in 1939. She was remembered for her breathless manner of speaking as her words tumbled out, with great enthusiasm, about native plants and botany.
Image: Lycopodium scariosum, spreading or creeping clubmoss, pictured in Upper Hutt, New Zealand. Source: Wikimedia Commons.
Reference:
'NZBotSoc No 94 Dec 2008 - Nzbotsoc-2008-94.Pdf', accessed 25 August 2017, http://www.nzbotanicalsociety.org.nz/newsletter/nzbotsoc-2008-94.pdf.
This profile is part of the series 150 Women in 150 Words that celebrates women's contributions to expanding knowledge in New Zealand, running as part of our 150th Anniversary.