Helen Rawson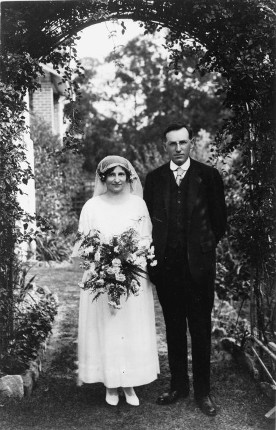 Helen and William Noel Benson on their wedding day. Fleming, Sir Charles: Photographs of W N Benson. Ref: 1/2-129013-F. Alexander Turnbull Library, Wellington, New Zealand. /records/23085577
Professor of Home Science (1886-1964)
Helen Rawson didn't receive her BSc degree from Cambridge until 1919, despite completing the course years earlier, because when she first finished women were not able to graduate. In 1911, Rawson began working as a lecturer in chemistry and household and social economics at the University of Otago's School of Home Sciences. The Chemistry Professor at Otago, oblivious to her "brilliant" career at Cambridge, was doubtful about Rawson's chemical knowledge, saying: "A fine lassie, but is she sound on the soda-ammonia process? I'll put it down on paper for her."1

In 1920 Rawson took over as the head of the School of Home Science from New Zealand's first female professor, Winifred Boys-Smith. But when Rawson married geologist Noel Benson in 1923 she too left the school and concentrated on community activities, including founding the New Zealand branch of the Federation of University Women.2
 
References:
1. Ali, 'Scientific Women', University of Otago 1869-2019, 27 March 2016, https://otago150years.wordpress.com/2016/03/28/scientific-women/.

2. New Zealand Ministry for Culture and Heritage Te Manatu Taonga, 'Benson, Gertrude Helen and Benson, William Noel', Web page, accessed 4 September 2017, /en/biographies/4b24/benson-gertrude-helen.
This profile is part of the series 150 Women in 150 Words that celebrates women's contributions to expanding knowledge in New Zealand, running as part of our 150th Anniversary.