Greta Stevenson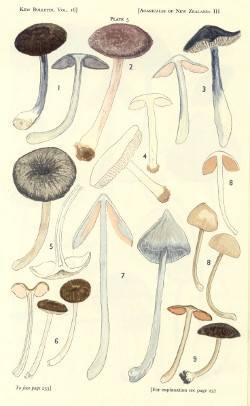 Greta Stevenson's major contribution to New Zealand science was a series of articles on the gilled mushrooms of New Zealand. Featuring her own watercolour illustrations and published in the Kew Bulletin, these papers described over 100 new species and sparked new interest in New Zealand's mushrooms.

Stevenson grew up in Dunedin and was a brilliant student at the University of Otago. She was also a keen mountaineer, and it was in large part down to her drive and leadership that led to the first significant female-only mountaineering trip in New Zealand – an ascent of the east peak of Mount Earnslaw.1

Stevenson graduated from the Imperial College of Science and Technology in London with a PhD looking at the diseases of lettuce. She had a versatile and nomadic career working, amongst other things, as a botany lecturer for Otago University, an analyst for the Wellington City Council, and a microbiologist for the Department of Scientific and Industrial Research.2
Image at right: A page from Stevenson's Agaricales of New Zealand: III.

References:
1. 'NZBotSoc No 56 June 1999', accessed 13 November 2017, http://www.nzbotanicalsociety.org.nz/newsletter/NZBotSoc-1999-56.pdf.

2. New Zealand Ministry for Culture and Heritage Te Manatu Taonga, 'Stevenson, Greta Barbara', Web page, accessed 13 November 2017, /en/biographies/4s44/stevenson-greta-barbara.


This profile is part of the series 150 Women in 150 Words that celebrates women's contributions to expanding knowledge in New Zealand, running as part of our 150th Anniversary.