Marion Robinson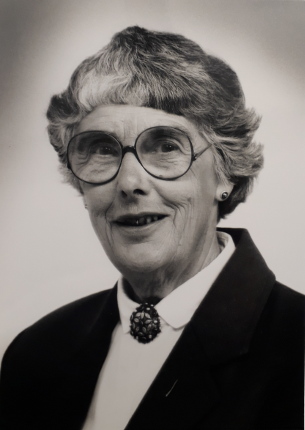 Marion Robinson. Source: Alexander Turnbull Library, Wellington, New Zealand. Ref: PA1-q-1058.
A world-leader in nutrition research, Marion Robinson reputedly began baking aged four and cooked much of her family's food by the time she was a teenager. Robinson went to the University of Otago to study home science, a degree which included an optional science specialisation – her only way to study biochemistry without doing a medical degree.

Robinson studied fluorine for a Masters degree, then completed 'brilliant' PhD research at the University of Cambridge looking at trace minerals such as iron, copper and zinc.1 After she returned to New Zealand with her family in 1957, Robinson was persuaded back into part time work to set up research for the School of Home Sciences – the first trace element laboratory in a dirty outbuilding previously belonging to the School of Mines.2 That research group became one of the most highly regarded in the world. Robinson became a Fellow of the Royal Society Te Apārangi in 1978 and became a Professor in 1980.
References:

1. '2003 Academy Yearbook', Royal Society of New Zealand.
2. Ali, 'Nourishing Science', University of Otago 1869-2019 (blog), 31 August 2014, https://otago150years.wordpress.com/2014/09/01/nourishing-science/.
This profile is part of the series 150 Women in 150 Words that celebrates women's contributions to expanding knowledge in New Zealand, running as part of our 150th Anniversary.