Mira Szászy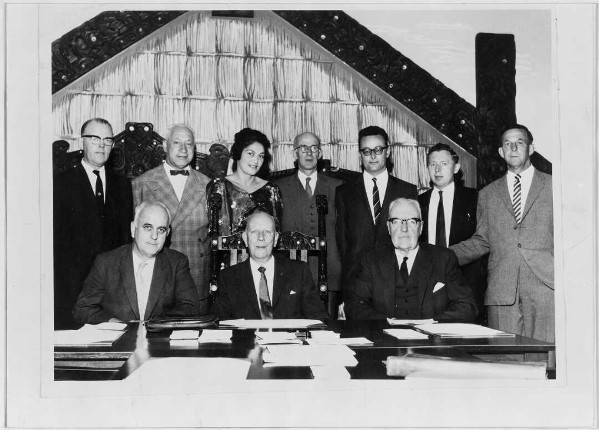 Mira Szászy, third from left at back at the first meeting of the Māori Education Foundation at Parliament Buildings, 19 Dec 1961, Evening post Newspaper. Source: Ref: PAColl-7796-41. Alexander Turnbull Library, Wellington, New Zealand.
First Māori Auckland University Graduate (1921-2001)
Mira Szászy grew up in an isolated Northland town where children attended school by rowboat and the teachers arrived in wagons driven by cows. But at the age of about 15, she was "fostered" into the family of a Pakeha teacher in Auckland. She studied hard and wanted to become a doctor, but had been taught insufficient Latin. Instead she completed a BA at Auckland University College, then turned to teaching when ill health stopped her from completing a Masters degree. After a stint teaching she did a post graduate course in social sciences at the University of Hawaii and then joined the Ministry of Māori Affairs as a welfare officer. She faced prejudice against this level of education in a Māori woman, but went on to a long career campaigning for Māori and for women. She was President of the Māori Women's Welfare League from 1973-1977, was made Dame Commander of the Order of the British Empire in 1990 and in 1993 received an Honorary Doctor of Laws from Victoria University of Wellington.
For more information:
Paula Martin, 'Profiles of Senior New Zealand Women in Science', Lives with Science, 1993, p. 24.
This profile is part of the series 150 Women in 150 Words that celebrates women's contributions to expanding knowledge in New Zealand, running as part of our 150th Anniversary.