Nancy Adams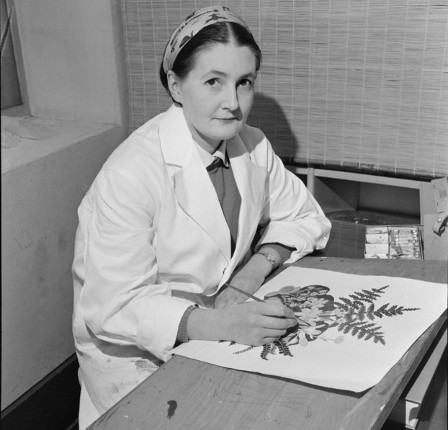 Nancy Mary Adams, artist at the Dominion Museum, working on a painting featuring flowers and ferns. Evening Post (Newspaper. 1865-2002) :Photographic negatives and prints of the Evening Post. Ref: EP/1959/2182-F. Alexander Turnbull Library, Wellington
Botanist and botanical illustrator (1926-2007)
"Right from the time I was very small, I knew somebody did the plant drawings in books. That's what I wanted to do."1 Nancy Adams had her chance when she applied for a job at Plant Research Bureau within the Department of Science and Industrial Research at the the tender age of 16. She was asked to name the trees she could see out the window, and when she could, was sent around to the Botany Division. There were many women working there at the time, while men were off fighting during World War II.

Adams soon took over doing the illustrations for the department until she was appointed to the Museum of New Zealand Te Papa Tongarewa in 1959. She became an expert in marine algae, co-authored numerous books, produced an award-winning book on seaweeds and was one of New Zealand's foremost botanists and botanical artists for more than 50 years.
Image: An illustration of Rannuculus lyallii (mountain buttercups) with R. Buchananii (upper left) and R. sericophyllus (upper right) in Nancy Adams' book Mountain Flowers of New Zealand from 1965.
Reference:

1. Paula Martin, 'Profiles of Senior New Zealand Women in Science', Lives with Science, 1993, p. 46.
This profile is part of the series 150 Women in 150 Words that celebrates women's contributions to expanding knowledge in New Zealand, running as part of our 150th Anniversary.