Ngāpare Hopa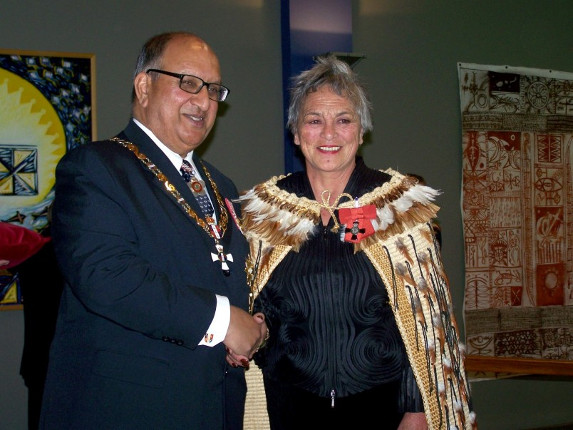 Ngāpare Hopa receiving the Insignia of the New Zealand Order of Merit in 2008.
First Māori woman to gain a PhD (1935-)
Ngāpare Hopa grew up in the Waikato until, aged 12, she took the opportunity to attend the Queen Victoria boarding school in Auckland. After a final year of schooling at Epsom Girls Grammar School Hopa attended the University of Auckland, then trained as a teacher. She taught at various schools and worked for a year as a cadet Māori welfare officer before heading overseas.

A chance conversation in London led Hopa into applying for Oxford University, where she studied for a PhD in anthropology looking at urban Māori. Hopa returned to New Zealand and taught at Auckland University before moving to the Anthropology Department of California State University in 1969. She returned to New Zealand in 1986 when her mother became ill and worked at Waikato University before returning to Auckland, where she became the head of the Māori Studies Department. A leading Māori academic, Hopa has promoted positive relationships between cultures and a better understanding of New Zealand's history.
For more information:
"Oxford's First Maori Woman PhD Remembers Gordonton School," Number 8 Network, October 10, 2016, http://www.number8network.co.nz/2016/10/11/oxfords-first-maori-woman-phd-remembers-gordonton-school/.
This profile is part of the series 150 Women in 150 Words that celebrates women's contributions to expanding knowledge in New Zealand, running as part of our 150th Anniversary.