Rangimārie Hetet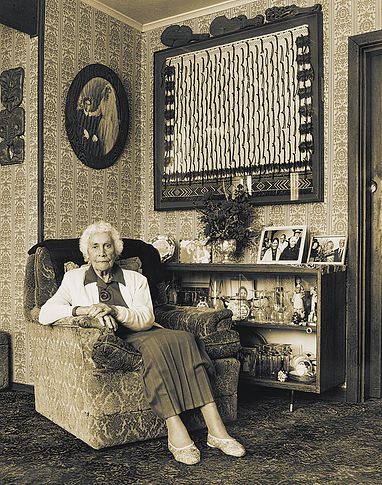 Rangamarie Hetet. Credit: David Cook, 1990 Waikato Museum
Rangimārie Hetet (1892-1995)
Master Weaver
During the 1950s, when the Māori Womens' Welfare League feared the craft of weaving could die out, they asked founding league member Rangamārie Hetet to teach other women. Hetet grew up learning to weave from her mother at Oparure near Te Kūiti. But it was customary to only teach women from within one's own tribe.1 In a radical move, Hetet chose to disregard this customary restriction and opened up weaving to a much wider group, teaching in the community and schools.2

With the need for different types of flax and other plants, different dyes, and mordants such as hinau solution to fix the dye, this was science as well as art. Hetet passed on a detailed body of knowledge, which her great-granddaughters continue to use today.

During the second half of the twentieth century, Hetet received considerable recognition for her efforts – winning awards, receiving an honorary doctorate, and being named a Dame Commander of the Order of the British Empire.  
References:
1. "Rangimarie Hetet (1892-1995) | Collections Online - Museum of New Zealand Te Papa Tongarewa," accessed July 1, 2018, https://collections.tepapa.govt.nz/topic/3651.
2. New Zealand Ministry for Culture and Heritage Te Manatu Taonga, "Hetet, Rangimarie," Web page, accessed June 29, 2018, /en/biographies/5h18/hetet-rangimarie.
This profile is part of the series 150 Women in 150 Words that celebrates women's contributions to expanding knowledge in New Zealand, running as part of our 150th Anniversary.