Alison Downard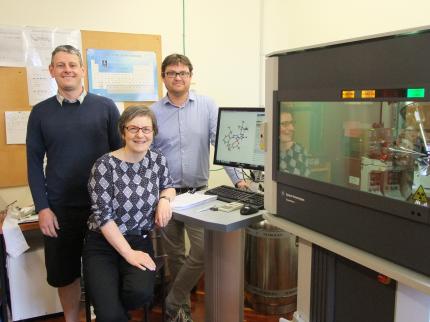 Alison Downard (centre) with research team Chris Ftichett and Aaron Marshall.
When Alison Downard left her Te Puke high school to start a home science degree at the University of Otago, she didn't expect to become an electrochemist. But Downer found her compulsory science subjects fascinating, and graduated with a BSc in 1979. After postdoctoral work overseas, she returned to New Zealand and began lecturing at the University of Canterbury in 1988. She is now a Professor and Principal Investigator with the MacDiarmid Institute, looking at electrochemistry, materials chemistry and surface science.
 
Downard's research chemically modifying surfaces at the nanoscale has led to discoveries of new electrodes, with new applications in energy storage and conversion. She was awarded a Marsden Fund research grant in 2017 to investigate ways to speed up very slow electrically-driven chemical reactions, which could help make fuel cells a more practical way to store renewable energy.1

Reference:
1. "Royal Society Te Apārangi - Designer Catalysts for a Sustainable Future," accessed June 16, 2018, https://royalsociety.org.nz/what-we-do/funds-and-opportunities/marsden/awarded-grants/marsden-fund-highlights/2017-marsden-highlights/catalysts-for-sustainable-future/.
This profile is part of the series 150 Women in 150 Words that celebrates women's contributions to expanding knowledge in New Zealand, running as part of our 150th Anniversary.