Averil Lysaght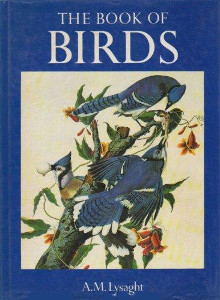 Averil Lysaght was only 15 when she found a new species of noctuid moth on Mount Taranaki. Now known as Graphania averilla, it was recorded in Entomologist's Monthly Magazine that Lysaght had caught two females at an altitude of 3000 feet.1

Lysaght continued her interest in insects: she published two entymology papers by the time she was 20; her MSc at Victoria University College in 1920 was on beetles; and her PhD from the University of London investigated the roundworm parasites of thrips, a type of slender flying insect.

During a trip back to New Zealand in 1948 Lysaght came across Joseph Banks' journal from the Endeavour and resolved to make his writing better known.2 After twenty years of research, she published the monumental work Joseph Banks in Newfoundland and Labrador, 1766. She was also interested in bird illustration and her other major work (at right) was the publication in 1975 of The book of birds: five centuries of bird illustration.
References:

1. Hudson, George Vernon (1921). "Description of a new species of the lepidopterous genus Melanchra Hübn. from New Zealand". Entomologist's Monthly Magazine. 57: 255 – via Biodiversity Heritage Library
2. New Zealand Ministry for Culture and Heritage Te Manatu Taonga, 'Lysaght, Averil Margaret', Web page, accessed 14 November 2017, /en/biographies/5l25/lysaght-averil-margaret.

This profile is part of the series 150 Women in 150 Words that celebrates women's contributions to expanding knowledge in New Zealand, running as part of our 150th Anniversary.