Audrey Eagle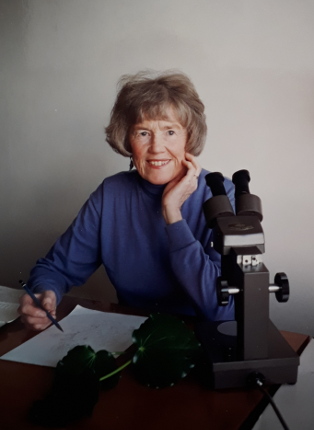 Audrey Eagle. Source: Alexander Turnbull LIbrary, Wellington, New Zealand. Ref: PA1-q-1057.
Botanical painter (1925-)
While a teenager in England, Audrey Eagle's proud father took a book of her botanical paintings to Kew Gardens. To have a botanical career, they said, she would need to get a degree in botany. But university was out of the question during the Second World War in a family with four children to support, so Eagle trained as an engineering draftswoman.1

Eagle had spent her early years in New Zealand, and felt it was her destiny to return. When she did, the variety of plants in the bush astonished her. In an attempt to learn more of the names she began her life's work – 800 or more paintings focused on botanical identification. Eagle's Trees and Shrubs of New Zealand in Colour was first published in 1975, with subsequent editions adding even more material. Eagle was made a Companion of the New Zealand Order of Merit in 2001 and received an honorary doctor of science degree at Otago University in 2013.

Reference:
1. "Meet Audrey Eagle, Botanical Artist," Museum of New Zealand Te Papa Tongarewa, Wellington, NZ, September 4, 2017, https://www.tepapa.govt.nz/discover-collections/read-watch-play/science/meet-audrey-eagle-botanical-artist.
This profile is part of the series 150 Women in 150 Words that celebrates women's contributions to expanding knowledge in New Zealand, running as part of our 150th Anniversary.