Pamela Young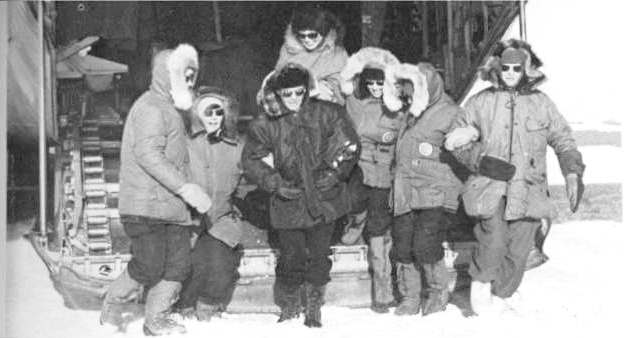 First New Zealand woman to work in Antarctica
Right from the start of Russian research in the Antarctic, that country involved women. But the United States Navy, who were in charge of most official science logistics, banned women until 1969. In 1968, Canterbury Museum marine zoologist Marie Darby managed to get to Antarctica as staff on a tourist ship. But in 1969 Pamela Young became the first New Zealand woman to work in Antarctica, as a field assistant to her biologist husband at Cape Bird.1 Six of the seven women on the continent that summer were flown especially to the South Pole for a publicity exercise, where they stepped out of the plane together (pictured) and resulting headlines ran along the lines of "Powderpuff Explorers (to) Invade South Pole".2 Young wrote a book about her experience, Penguin Summer: Or a Rare Bird in Antarctica and has a group of peaks named after her in Antarctica.
Image: 12 November 1969, the first women at the South Pole: Pam Young, Jean Pearson, Lois Jones, Eileen McSaveney, Kay Lindsay and Terry Tickhill. Rear Admiral D.F. Welch is in the middle. Source: Wikimedia Commons.
References:
1. 'Women in Antarctica | NZHistory, New Zealand History Online', accessed 2 August 2017, https://nzhistory.govt.nz/media/photo/women-antarctica.
2. 'Salem_V_Lit.Review.Pdf', accessed 2 August 2017, http://www.anta.canterbury.ac.nz/documents/GCAS_4/Salem_V_Lit.Review.pdf.
This profile is part of the series 150 Women in 150 Words that celebrates women's contributions to expanding knowledge in New Zealand, running as part of our 150th Anniversary.