Aroha Yates-Smith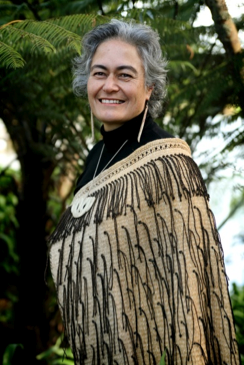 Aroha Yates-Smith
As a child, she wondered about why there were so few stories about female Māori goddesses. So when Aroha Yates-Smith undertook a PhD, after completing a Masters thesis and teaching Māori language, she looked for the lost stories of Māori female deities. Her 1999 thesis, Hine! E Hine! Rediscovering the Feminine in Maori Spirituality, found that there were female deities. The thesis was the first of its kind and won her the Royal Society Te Rangi Hiroa Medal in 2003, awarded for current issues in cultural diversity and cohesion.

Yates-Smith became the dean of Waikato University's School of Māori and Pacific Development, where her research interests included Māori spirituality, Māori women's arts and crafts, and traditional Māori healing practices.
For more information:

1. wakahuiatvnz, Waka Huia - Aroha Yates-Smith, the Māori Academic Who Went in Search of Māori Deities, accessed February 2, 2018, https://www.youtube.com/watch?v=fQ6SSIyUTOI.
2. Monday, 22 November 2004, and 4:57 pm Press Release: Waikato University, "Waikato Academic Honoured For Thesis | Scoop News," accessed November 20, 2017, http://www.scoop.co.nz/stories/ED0411/S00067.htm.
This profile is part of the series 150 Women in 150 Words that celebrates women's contributions to expanding knowledge in New Zealand, running as part of our 150th Anniversary.