Jane Soons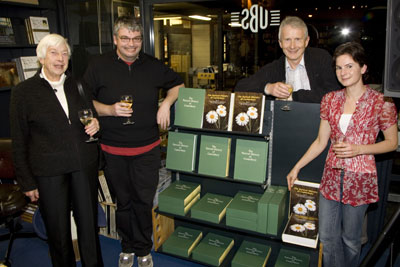 Jane Soons (left) with Tim Nolan, Andy Sturman and Deirdre Hart. Copyright Eve Welch, University of Canterbury.
Canterbury University's first female professor, Jane Soons was appointed as a lecturer in geographer at Canterbury in 1960. She taught geomorphology, the study of the evolution of earth's features. In those initial years at Canterbury, Soons recalls travelling widely with Vida Stout – flying by floatplane to Fiordland cirques, where Soons was judged not competent to balance on the floats collecting samples.

Soons became known internationally for her study of the glacier-sculpted lansdscapes of the Rakaia Valley, clarifying debates on environmental change. She also made major contributions to our understanding of the glacial landforms of the West Coast and the movement of the Franz Josef Glacier. Soons became a professor in 1971 and was for many years the only female academic member of staff. For many years she convened the National Committee for Quaternary Research for the Royal Society and in 1994 she won a Royal Society Silver Medal.

For more information:
New Zealand Geographer Editorial, 57 (2) 2001:2, http://www.nzgs.co.nz/images/stories/nzgs/pdfs/nzgs-citations/oration_soons.pdf
This profile is part of the series 150 Women in 150 Words that celebrates women's contributions to expanding knowledge in New Zealand, running as part of our 150th Anniversary.