Juliet Gerrard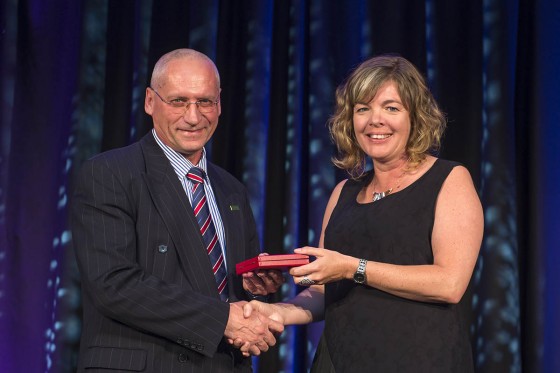 Juliet Gerrard awards a medal to Valery Feign
The second Prime Minister's Chief Science Advisor for New Zealand, and the first woman in the role, Juliet Gerrard is a biochemist whose work spans many areas. Her research is both applied and fundamental, and cuts across the disciplines of chemistry, health, agricultural and food science.

Gerrard moved to New Zealand in 1993 from the United Kingdom, after a PhD at Oxford University, and began work as a research scientist at Crop and Food Research. After a stint at Canterbury University she moved to Auckland, where her latest research looks at how the way a protein molecule is made influences its function. In 2015 she commercialised her work by founding Hi-Aspect Limited, a company focused on developing protein-based materials to aid skin care and wound healing.

Gerrard spent six years as chair of the Marsden Fund Council, which distributes New Zealand's biggest fund for blue-sky research, and began her role as Chief Science Advisor in 2018.
This profile is part of the series 150 Women in 150 Words that celebrates women's contributions to expanding knowledge in New Zealand, running as part of our 150th Anniversary.