Kāterina Mataira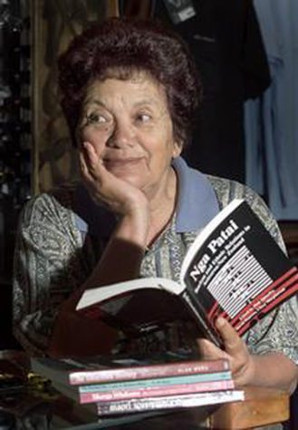 Kāterina Mataira
Māori language proponent and educator (1932-2011)
Nicknamed the "mother" of Kura Kaupapa Māori or Māori language immersion schools, Kāterina Mataira was born in Tokomaru Bay. She trained to be a teacher and in 1956 introduced the first Māori language class in a state school. She helped set up the first Māori language immersion school in 1985, co-authored the charter for kaupapa Māori schools and was a foundation member of the Māori language commission in 1987.

Mataira wrote award-winning picture books in Māori for children and also wrote several novels in the Maori language – including a work of science fiction in 1975.

In 1996 Mataira was made an Honorary Doctor of the University of Waikato, in 2008 she was awarded the Pou Aronui Award for for distinguished service to the humanities-aronui and in 2011 she was made appointed a Dame Companion of the New Zealand Order of Merit for service to the Māori language.
For more information:

Saturday, 16 July 2011, and 6:29 pm Press Release: The Maori Party, "Passing of Dame Kāterina Te Heikōkō Mataira | Scoop News," accessed February 3, 2018, http://www.scoop.co.nz/stories/PA1107/S00302/passing-of-dame-katerina-te-heikoko-mataira.htm.
"Katerina Te Heikoko Mataira," accessed February 3, 2018, https://www.storylines.org.nz/Storylines+Profiles/Profiles+I-M/More+in+Profiles+I-M/Dame+Katerina+Te+Heikoko+Mataira.html.
This profile is part of the series 150 Women in 150 Words that celebrates women's contributions to expanding knowledge in New Zealand, running as part of our 150th Anniversary.