Liz Slooten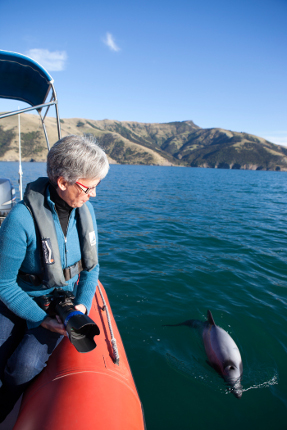 Liz Slooten
The only woman to have received the Royal Society's Charles Fleming Award for Environmental Achievement, Liz Slooten has been researching marine mammals for more than 30 years. She grew up in the Netherlands where her first job out of school – by chance – was working in a marine park. This involved swimming with captive dolphins, as well as typing for a PhD student studying dolphin behaviour.

When Slooten emigrated to New Zealand, she decided to study marine biology at Auckland University. In 1984 she started a PhD at Canterbury University, together with life and research partner Steve Dawson, studying dolphins based out of a Volkswagen Kombi van. But the pair found their study subjects dying. They began working to achieve protection for dolphins from gill and trawl nets.
 
Now a Professor in the Department of Zoology at the University of Otago, Slooten has researched a variety of marine mammals, focused on applied projects and gathering data needed for population models and risk assessments.
This profile is part of the series 150 Women in 150 Words that celebrates women's contributions to expanding knowledge in New Zealand, running as part of our 150th Anniversary.